June 18, 2019
Healthify Partners with Landmark Health to Address the Social Determinants of Health for 97,000 Patients Nationwide
Timely referrals to ​community-based​ services will better support the​ longitudinal needs of Landmark's complex patients.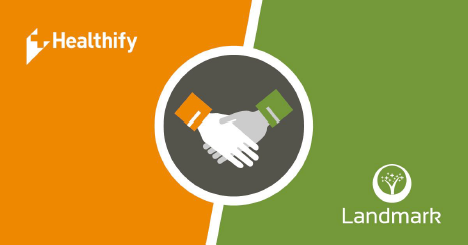 NEW YORK, NY (June 18, 2019) — Healthify and Landmark Health (Landmark) announce a​ groundbreaking, collaborative partnership to address the social determinants of health (SDoH) for complex, chronic patient populations across 13 states —​​ California, Kansas, Kentucky, Louisiana, Massachusetts, Mississippi, Missouri, New York, North Carolina, Ohio, Oregon, Pennsylvania and Washington. ​
The partnership marks a significant milestone in Landmark's mission to ​deliver comprehensive care to patients wherever and whenever they need it. Healthify's nationwide coverage and​ scalable implementation methodology will support Landmark's ability to meet their patients' needs as they expand into new cities and states. Landmark joins a ​growing community of providers who are working closely with Healthify to address SDoH, such as transportation, food, education, employment and housing, in at-risk, vulnerable communities.
"​Because our patients​ ​ are living with multiple chronic conditions, they face higher healthcare needs. To achieve positive health outcomes for this vulnerable population, it is imperative that​  we go beyond clinical care to meet their social needs," shared Landmark Chief Behavioral Health Officer Chris Dennis, MD. "By partnering with Healthify, we hope to give our interdisciplinary team the best tool to quickly locate and refer patients to community-based services and improve the well-being of every Landmark patient."
Through the partnership, Healthify will support Landmark's SDoH initiatives by implementing access to a nationwide electronic database of more than 426,000 resources. With Healthify, social workers will be able to track the status of those referrals and through a comprehensive reporting dashboard, demonstrate improvements in patient health outcomes as a result of specific SDoH interventions.
With Healthify's enterprise solutions, Landmark aims to:
Operationalize organizational SDoH strategies in multiple markets across the country
Improve health outcomes and lower the cost of care for complex and chronically ill patient populations
"Implementing Healthify's SDoH solutions to support Landmark's goals​ ​is a vital next step in the movement toward value-based care," shared​ ​Healthify CEO and Cofounder​ ​Manik Bhat. "Landmark is a key leader in meeting the needs of complex, chronic patient populations across the country and with the announcement of this partnership, Landmark continues to demonstrate their commitment to delivering quality care." ​
To learn more about Healthify's enterprise solutions, please request a dem​o.​
# # #
About Healthify
Healthify solutions enable collaboration between health plans, health systems, government departments and community-based organizations to address the social determinants of health by establishing coordinated networks of community partners. Built for enterprise teams, the Healthify platform supports integrations with EHRs, HIEs and other care management systems to support workflows to screen for social needs, find community services, coordinate referrals, and analyze outcomes and cost. For more information, please visit www.healthify.us, or connect with us on LinkedIn or Twitter.
About Landmark
Landmark Health and its affiliated medical groups (Landmark) partner with health plans and delivery systems to bring patient-centric, in-home care to complex and chronically ill populations. The company bears risk for more than 97,000 lives across 13 states. Landmark provides access to care 24/7 to patients and their families. Its value-based model relies on fully-employed, local multidisciplinary care teams to help drive long-term outcomes for patients by bringing medical, behavioral, social and palliative care to individuals, where they reside and when they need it. Landmark is bringing back the house call. Learn more at www.landmarkhealth.org.
HEALTHIFY CONTACT
Sarah Hartshorn, Director of Marketing
(774) 345-9779
sarahhartshorn@healthify.us
LANDMARK CONTACT
Jessica Diaz, Sr. Director, Brand & Marketing
(657) 234-8416
jdiaz@landmarkhealth.org