October 26, 2018
A Story of Dementia, A Burning Oven and In-Home Care
At Landmark, we kick off our monthly company meetings with a patient story.
This ritual keeps everyone rooted in our purpose of caring for complex, chronic patients – whenever and wherever they need us. It momentarily transports those of us with desk jobs, into patients' homes with our doctors and clinical team members.
Recently, one of our East Coast markets shared a story about a patient who lived alone in a more remote setting. Her grown children were living their own lives, without too much awareness for how their mother's mental health had started to decline. In fact, the patient was showing signs of dementia – repeating herself and wandering at night looking for her kids. She had gotten in a car accident that left her without a car and even more isolated in her house near the woods.
Landmark's clinical team members noticed signs of cognitive decline from the first phone call. When our house call provider – a Complexivist® – showed up at the patient's home, the patient had forgotten about the appointment. The provider completed the medical and mental evaluation and followed up with the patient's primary care doctor. She also pulled a Landmark social worker in to visit the patient and dig into her support system and other needs.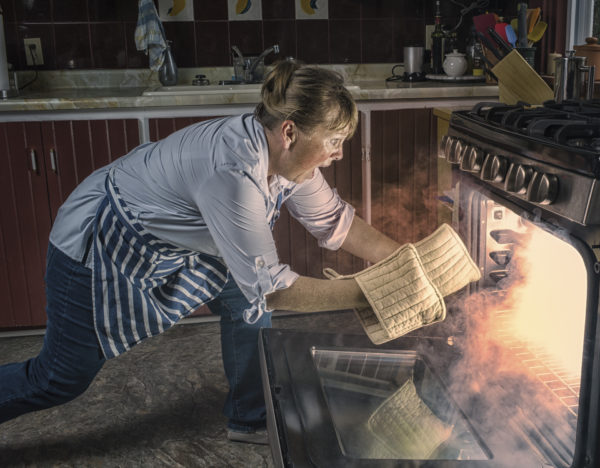 The social worker uncovered more about how involved the patient's children were in her care and organized for some monitoring systems and medical devices to keep a closer watch on the patient. And since all Landmark clinical team members are coached to pay attention to any hazards in the home, she also noticed that the patient was storing food in the oven to 'keep it fresh.' She pulled the food out of the oven and instructed the patient on the risk of storing food there and potentially forgetting about it before starting the oven.
As with any of us, habits can be hard to break.
Not long after this visit, Landmark received an urgent call to come to the patient. When our urgent care provider – an Urgentivist™ – arrived, she found the patient locked out of her home. The provider worked to get into the home to treat the patient but upon entry could smell smoke – a fire. She went through the house to determine the source and came across a smoking oven in the kitchen. A paper bag of food stored there had caught on fire. She was able to put the fire out and then take care of the patient. Thank goodness this patient had Landmark!
In-home medical care – house calls – may be available to you or your loved ones. Check with your health plan if you are eligible for Landmark Health. Or talk with your primary care provider group to see if they offer house call visits. Separately, home health may be an option, where non-medical professionals come into the home to help with daily tasks of living. Dementia is not always easy to recognize in a loved one and memory problems may be the result of poor sleep, stress or even a wrong dose of medication. But stay in touch! Be on the lookout for signs of dementia, especially if you live apart.
We can't promise we'll always be there to put out fires – call your fire department for that! – but we can be an extra layer of care and support for those who need it most.
Stay well. Stay home.