December 14, 2022
Feeling lonely? Talk about it
Written by: Suzanne Meyer, LCSW, CCM
Feeling lonely? Talk about it
During a routine appointment with your primary care physician (PCP), you may typically answer questions about your diet, any recent changes to your sleep pattern or any reactions to the medications that you are on.
But the one thing you might not think to share with your PCP is if you are feeling lonely.
It is important to share feelings of loneliness with your doctor as it has been linked to increased risks for high blood pressure, heart disease, obesity, cognitive decline and Alzheimer's disease. Therefore, addressing feelings of loneliness is an important component to your overall health and wellness.
Recognizing that you are feeling lonely is the first step toward getting support. According to the CDC, loneliness is the feeling of being alone, regardless of available social supports and contact. For older adults, some common risk factors for loneliness include: living alone, difficulty hearing, loss of independence or a major life change such as the death of a partner or close friend. Even joyful milestones such as retirement can lead to feelings of loneliness as you adjust to life outside of the workplace and begin finding new purpose to your days.
If any of these risk factors resonate with you or you are noticing these issues in a loved one, there are some things you can do to try and improve your mood:
1.  Make a plan to contact one friend or family member each week. All too often we hear patients say that "they don't want to be a burden" on their family or friends. Remember, chatting with loved ones is a two-way street. It is not about asking for help but reaching out to stay connected. Feeling nervous about that first call? Prepare some questions or bring up current events.
2.  Check out your local library. Many libraries have book clubs, lectures and other programs that might be of interest to you. These options may be offered in-person or virtually, so choose something you feel most comfortable with. You never know, you may just meet a new friend who shares similar interests.
3.  Volunteer or request a volunteer to visit you. Depending on your own level of functioning, getting out to volunteer offers a way to stay active in your community. And, if getting out of the house has become challenging, some communities offer home visiting volunteers. Contact your local Office for Aging to be connected to the available resources in your neighborhood.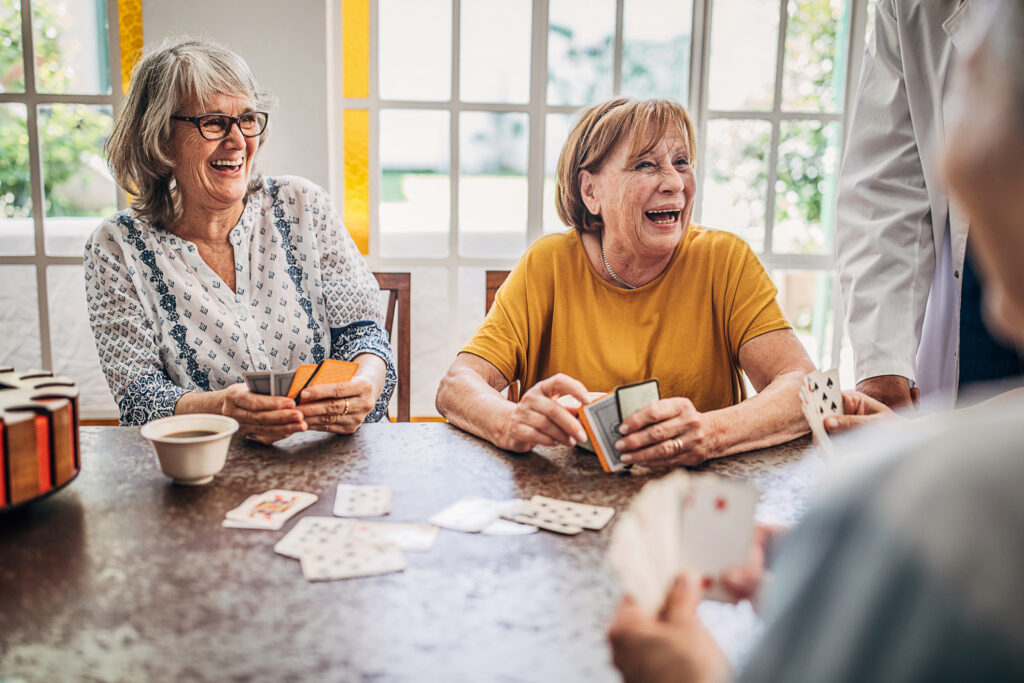 These suggestions may seem simple, but they can be quite impactful for those living with loneliness. If you are dealing with feelings of loneliness or know of someone who might be, it could be worth having this conversation. Jennifer Herrington, a licensed master social worker at Landmark Health, used a combination of the above suggestions to help one family add social supports to their loved one's life.
Mrs. S* was referred to Herrington after her family expressed concerns about Mrs. S needing more help at home. Mrs. S is an 87-year-old female who resides at home alone. She has congestive heart failure and impaired vision. After exploring the concern with Mrs. S and her family, Herrington assessed that the family was able to provide all the concrete support that was needed, but Mrs. S lacked some social connection during the day when her family was not available.
Along with Mrs. S and her family, Herrington identified two interventions that helped increase social supports and decrease loneliness for Mrs. S. First, was offering the idea of books on tape. Once an avid reader, due to impaired vision, Mrs. S could no longer enjoy reading. Books on tape became a new way to enjoy an old hobby and also offered a conversation piece for when she did interact with her family. Secondly, Herrington was able to refer Mrs. S to a local volunteer organization and a friendly visitor has started making weekly home visits. Mrs. S even shared that the volunteer brought her home made treats to eat together and, so far, the increased social connections are offering relief to both Mrs. S and to her family.
Remember, if you are feeling lonely, make sure that you discuss this feeling with your PCP, your friends and your family. You'll be glad that you did.
References:
(1) Social isolation, loneliness in older people pose health risks. (2019, April 23) National Institute on Aging. https://www.nia.nih.gov/news/social-isolation-loneliness-older-people-pose-health-risks
(2) Loneliness and social isolation linked to serious health conditions. (2021, April 29) Centers for Disease Control and Prevention. https://www.cdc.gov/aging/publications/features/lonely-older-adults.html
*Patient name changed to protect the patient identity.