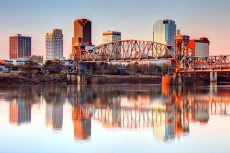 Seeing patients in Arkansas.
Landmark Health provides services in Arkansas.
Office Locations
Landmark's community-based providers and multidisciplinary care teams live and work near our patients. We go to them – where they reside and when they need care. We connect as a team in our local offices to collaborate on patient cases in order to see and treat the whole patient.
Interested in being a Landmark patient?
Call your health plan to see if you qualify.

Landmark is available to patients who qualify for the program through their health insurance company. Eligible patients have multiple chronic health conditions and are actively enrolled in select Medicare Advantage Plans.
Work at Landmark
We are actively hiring. Visit the Join Our Team page to view open positions and learn about Landmark as a premier healthcare employer.