January 7, 2021
10 Important Things to Know About In-home Medical Visits
Learn what you can expect from in-home medical care.
If you have ever been curious about in-home medical care for yourself or a loved one, learn what you can expect.
Your doctor or other provider comes to you, in your home.
You don't have to drive to the doctor's office or sit in a waiting room. Instead, your provider visits you in the comfort of your home at a scheduled time.
Your house call doctor can do lab work in your home.
Urinalysis, blood draws and even x-rays can be done in your home.
Landmark takes steps to help ensure your doctor is well before visiting you.
During the pandemic, all Landmark providers wear personal protection equipment and are regularly monitored for symptoms.
Your Landmark provider will spend ample time with you.
Landmark's in-home providers spend 45 – 60 minutes with you at each visit. This time allows you to address multiple concerns and ask any questions you may have.
Landmark doctors can talk to your caregivers or family too, if you like.
By having a doctor who comes to your home, your caregivers can easily speak with him or her, and ask questions.
Your Landmark medical team is available to you 24/7.
If you are sick, you can avoid visits to the emergency room or urgent care clinic. Landmark has nurses available to talk to you by phone 24/7. If needed, an on-call provider can visit you at home on an urgent basis, helping you to avoid urgent care and emergency room visits.
Your Landmark provider can refer you to specialists.
If you have a medical need best addressed by a specialist, Landmark can refer you to local specialists for your conditions.
Support staff is available to you.
Your nurse care manager can answer your questions by phone, help you schedule appointments, or address medical concerns. Beyond the nurse care manager, you can access additional support through Landmark's social workers, pharmacists, dietitians, behavioral health specialists and others.
Landmark in-home visits are generally no-cost or at standard visit copay.
Depending upon your health plan, in-home visits by your Landmark doctor may be provided at no cost to you, or at a standard doctor visit copay.
Landmark addresses your needs as a whole person.
With Landmark, your provider can help address more than your medical needs. Your provider will help make sure you have the resources you need to address issues such as food insecurity, loneliness, and mental health concerns.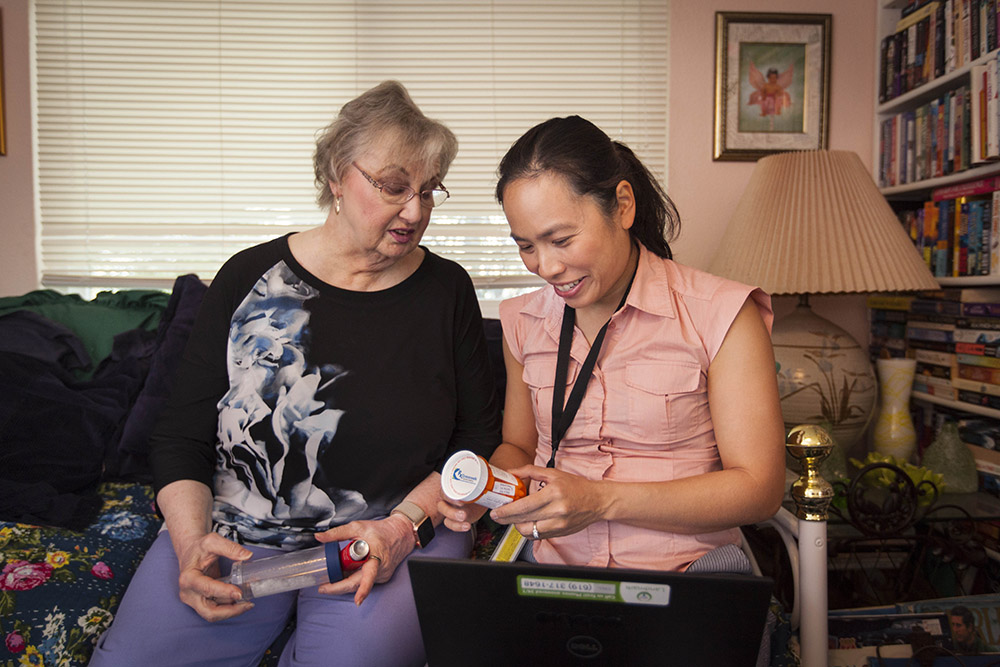 Landmark's in-home medical care is designed around understanding your health needs and goals. We serve patients living with chronic conditions, and are available to you depending on where you live, your health history, and your current health plan. For eligible patients, Landmark is available 24/7 and works with you and your regular doctors to help you stay well and stay home.
View our Locations pages to see if Landmark is in your community.