July 7, 2020
Boxing Training to Help Fight Parkinson's Disease
Ten years ago, Burnett Facer was diagnosed with Parkinson's disease. Since then, he has followed his doctor's orders, exercised regularly, and tried various ways to slow the progression of the disease.
Facer says, "When I read online about Parkinson's, boxing training kept popping up as a worthwhile treatment with good results. It's a non-drug approach to the neurological problem of Parkinson's disease."
Putting the Gloves Back On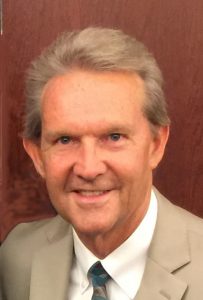 Boxing had not typically been of interest to Facer, except for a brief experience as a child. He says, "One year, I got boxing gloves for Christmas. There were seven boys in my family and three girls. I had plenty of opponents! But no training whatsoever. No instruction."
After Facer's childhood experience, he might never have picked up a pair of boxing gloves again. But then, at age 64, he began formal boxing training—this time, to fight the progression of Parkinson's disease.
Benefits of Intense Exercise for Parkinson's
Many articles and videos describe the benefits of boxing programs for Parkinson's disease, such as Rock Steady Boxing—a fitness-inspired, non-contact boxing program for people with Parkinson's.
Experts say that exercise provides major benefits for people with Parkinson's in balance, mobility and daily living activities. Cognition, strength, and bone health can also be improved. Exercise—especially intense exercise such as boxing training—goes beyond medication to empower patients to improve their symptoms and slow the progression of Parkinson's disease.
A Personal Boxing Trainer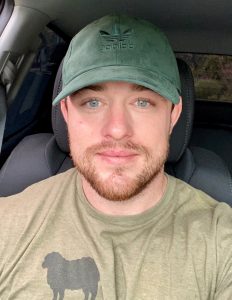 When Facer decided to try boxing, a friend recommended that he contact Jon Shinpaugh, a personal trainer at a gym in Southern California. Facer says, "Jon is a great boxing coach and instructor. I enjoyed the boxing workout. I like learning new skills, and I learned a lot! I wish I would have started boxing much earlier in the progression of my disease."
Shinpaugh says of Facer's training: "For several months, Burnett had fifty-minute sessions with me, two times a week. We worked on boxing skills combined with body-weight exercises. The skills we worked on included footwork, bag work, mitt work, punches, and then we combined bag work with footwork. We paid special attention to eye-hand coordination, line-of-sight vision, mobility and range of motion."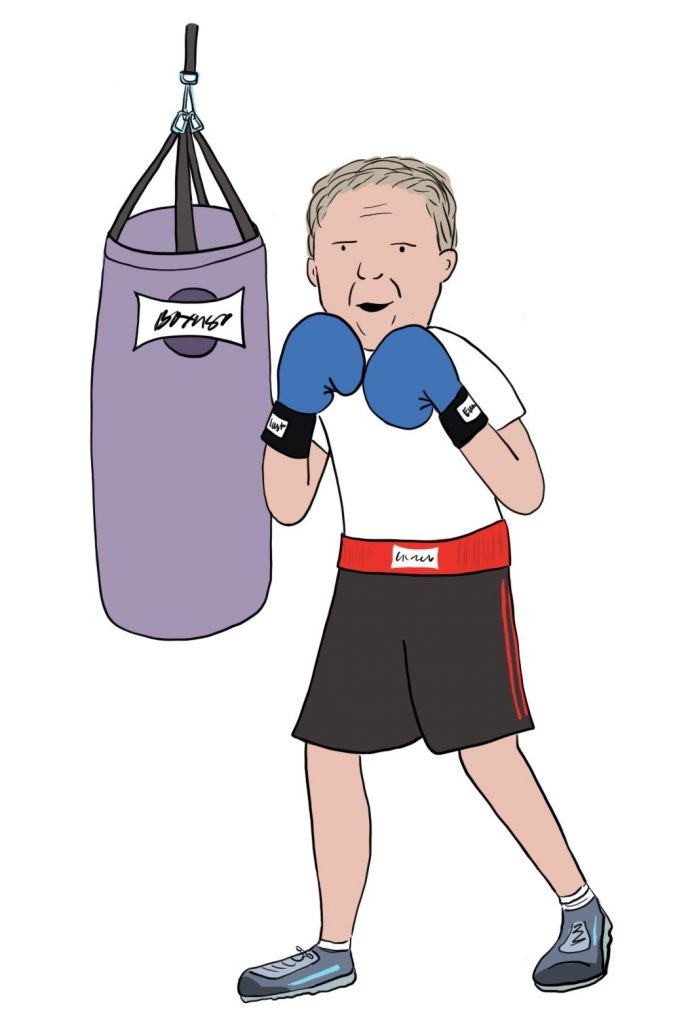 Inspiring Results
The physical benefits of boxing were evident to both Facer and Shinpaugh.
Facer says, "In the time I spent working with Jon, I made a lot of progress. I became stronger, with better agility. And it makes everything else better, too. I stand taller, my shoulders are back, and I walk better. It improves my sleep. Working with a trainer translated into being able to get up off the floor more easily when I'm playing with my grandchildren. I also noticed the difference when I was biking."
Shinpaugh says, "I noticed that Burnett's eye-hand coordination improved, and that he no longer shook while boxing. Burnett said that he felt boxing helped slow the progression of Parkinson's."
Facer says that for him, the boxing footwork was especially beneficial. "Parkinson's impacts fine motor skills and the ability to move quickly. Boxing forced me to have quick hands and quick feet. It was difficult for me to be quick—whereas before Parkinson's, that wouldn't have been as challenging. I like the benefits of forcing my body to do what it doesn't want to do because of Parkinson's.
Gaining Confidence, Function and Strength
If you have Parkinson's disease and would like to try boxing, consider taking the following steps:
Contact your physician to make sure you are healthy enough to try new or intensive exercise.
Begin as quickly as you can to maximize the benefits of your efforts.
Find a program or personal trainer who specializes in exercise for people with Parkinson's disease.
Facer says, "With Parkinson's, the brain doesn't produce enough dopamine for the body, which manifests itself as the shaking, weakness, and unresponsive muscles. Boxing stimulates the center of the brain that produces dopamine. I would absolutely recommend boxing. I stave off the effects of Parkinson's by forcing my body to keep going."
Learn more at:
https://www.ninds.nih.gov/Disorders/All-Disorders/Parkinsons-Disease-Information-Page