July 7, 2022
Caregiving for a Parent: More Partnership Than Role Reversal
Caring for an aging parent requires adaptability, patience and self-care
This article first appeared on Next Avenue.
A man with a small child got up from the adjacent booth at a local restaurant to tell me, "You are lucky caring for your mom. I see how you interact with one another and can feel the love. My mom passed away six months ago. I miss her. Hold onto your mom and cherish each moment."
This stranger has no idea how often I think about those words. I reach for them when anxiety sets in.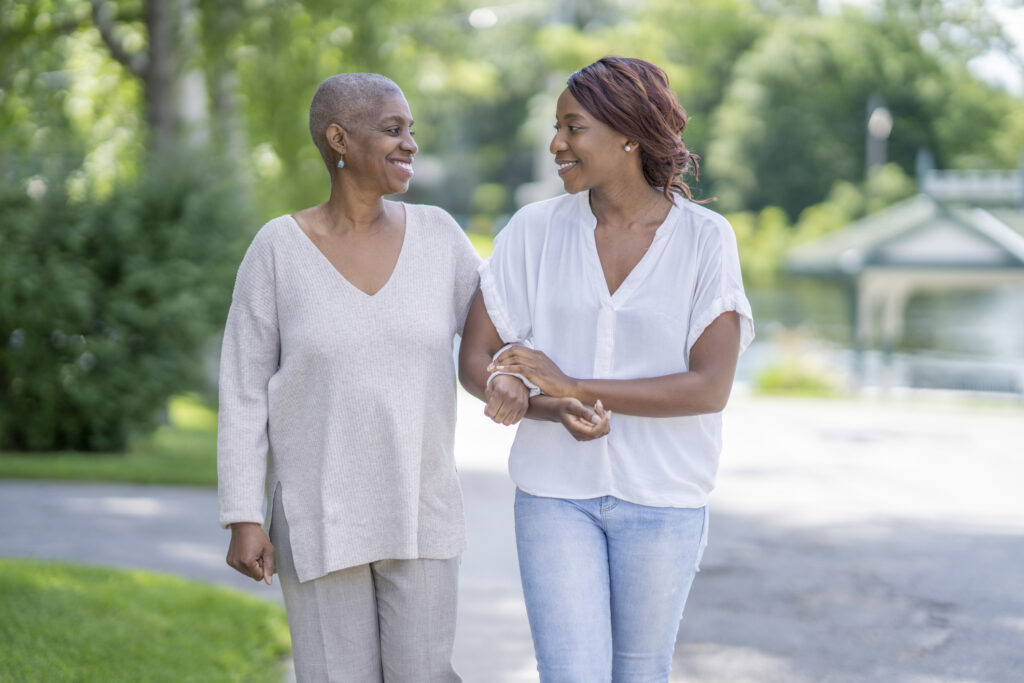 My journey of caring for my mom started a year ago. She's 90, worked as a teacher, taught art classes in her community and volunteered at two local community centers. She took care of my dad, who died a few years ago.
For a while, we talked on the phone every day. Her hearing is poor, even with hearing aids. I live in a nearby state and visit once a week. These visits often include trips to medical professionals. Other than not hearing too well, showing signs of cognitive decline and watching her New York City pace slow to an almost crawl, she's okay.
My mom told me several times that she wants to stay put. For now, that's our plan.
My brother lives a block away. He checks on her daily. I manage her finances and have Power of Attorney. She wasn't paying her bills and called to say her cable was turned off. Now, those bills come to my house.
When I consolidated our two bank accounts into one, a vice president at the bank asked my mom, "Why don't you move in with your daughter?"
My mom enjoys living on her own. Fortunately, I found a NORC (Naturally Occurring Retirement Community). They assigned a wonderful nurse from Visiting Nurse Service of New York who called and emailed me every week at the start and now checks in with me about once a month.
NORCs work to keep older adults in their homes for as long as their health permits. My mom told me several times that she wants to stay put. For now, that's our plan.
Caregiving as a Partnership
"Approach [caregiving] as a partnership," says Amy Cameron O'Rourke, a certified care manager and author of the book, "The Fragile Years: Proven Strategies for the Care of Aging Loved Ones."
"If you see it as a form of role reversal, you'll be unsuccessful because you're not reversing roles. You don't talk to your parents like they're six. It's a collaborative effort with joint decisions," says Cameron O'Rourke.
"It's learning to slow down and do things at your parent's pace," she continues. "Slowing down is a life lesson. Some of my greatest memories are when I'm not running around and I think back to times spent with my parents at their pace."
She adds, "It's also about taking care of yourself and having a support system in place to manage the anxiety and stress that inevitably arise when parents are in their fragile years."
Let Go of Control
According to Cameron O'Rourke, those who feel the need to be in control have the hardest time.
"Situations don't always go according to plan," she says. "Your parent may refuse to follow your wishes. Save that controlling nature for the big decisions, not the minor ones."
For instance, if your parent wants to shop at the local supermarket and is able to do so, don't object. However, step in if your parent's behavior is unsafe; it may be time to look at assisted living if your parent leaves the house with the stove on.
Navigating Rough Relationships
"You have to ask yourself how you'll feel if you step back and do nothing," Cameron O'Rourke says. "Can you hire someone to step in and care for your parent?"
She is also a fan of therapy for unresolved issues. It may bring you closer to your parent or leave you feeling okay even if the relationship remains broken.
In her own mother's declining years, Cameron O'Rourke often watched PBS shows with her mom and did her mom's nails. "Our time together was special for both of us," she says. "It's not always about doctor visits. It's about spending time together."
Deepening the Bond with A Parent
Patricia San Pedro, who lives in Florida, agrees. When her dad, Tony San Pedro, turned 90 two years ago, she hired a band of music students to come to his home to serenade him with Cuban music, which he loves.
She cared for her mom, who passed away from breast cancer at age 59; at the time, San Pedro was in her 30s. San Pedro oversees a support group on Facebook for women with breast cancer and runs San Pedro Productions. She's the author of the book "The Cancer Dancer."
Her dad has hydrocephalus. Today, he's in an assisted living community. Prior to assisted living, he was in the hospital and San Pedro visited as often as possible. When he came home, she cared for him, but had trouble lifting him out of bed. "He's a big man," she says.
The assisted living home in Florida is a short drive from her home. They often have dinner together. "It's challenging, seeing a parent that you love decline," she says.
Focus on the Present
San Pedro credits her friends and a dog she found with helping to lift her spirits. The dog had cancer. "He taught me to cherish the time together," she says, "not look towards the future of when he would no longer be around."
San Pedro takes her dad on car rides to visit family, plays his favorite music, and takes videos of him. She also takes care of herself by walking three miles a day, taking photos which are currently part of a gallery show, playing music and dancing.
"I have a support group of friends that I am grateful for," she says. "And I'm grateful to my stepmom. She loves my father and spends a lot of time with him."
"My dad wants me to take care of myself," San Pedro adds. "I know he'd be disappointed if I didn't."
Practicing Self-Care as a Caregiver
Tammy Hopps' mom, Ardis Hopps, has had health issues over the years, and working together, they've found a way for Ardis to remain in her home.
"She would have a health crisis and I would take her to the emergency room," Hopps says. "She'd spend time there, then go to transitional care, and then come home. It occurred often enough that I kept a go bag filled with meds, power bars, my laptop and other necessities on hand."
"We talk frankly about quality of life over quantity. She's told me she doesn't want me sacrificing my quality of life for hers."
Her mom had skin cancer surgery, sepsis — which led to congestive heart failure — and kidney failure. At the hospital, Tammy Hopps, who lives in Minneapolis, learned about Lifespark, a medical company based in Minnesota that helps older adults navigate health care options.
"Getting support was essential," she says, "not only for her, but for me too. My mom's health was on a downward spiral and I was constantly worried."
With medical support from Lifespark, (a nurse comes when needed), Hopps, who lives five minutes away from her mother, is able to keep her mom in her own home.
"She's ninety," says Hopps. "I watched her care for my dad. She wanted to keep him at home for as long as possible. She wants to stay in her home, too."
A Silver Lining
Hopps works remotely as a learning services coordinator at Rasmussen University. "I get a lot of support from my supervisor," she says. "I love my job and realize not every employer is open to time away from the office. Most of the time at the hospital, I sat and waited, which meant I got a lot done."
"When my mom was a caregiver for my dad, I was incredibly fearful of my parents dying," Hopps says. "I realized I needed to be prepared and make the time with my mom special."
"We talk frankly about quality of life over quantity. She's told me she doesn't want me sacrificing my life for hers. I enjoy being with her. We recently took a trip to a few casinos. We had a couple of bucks and the greatest time together," Hopps recalls.
Have Resources at Hand
Veronica Simes, a nurse care coordinator at Connections Wellness Group, understands it's hard to ask for help. "The good news is there are resources to assist individuals as they care for their loved ones," she says.
Simes recommends creating a list of resources in advance, so you aren't struggling to find support during difficult moments and suggests reframing the caregiving experience "from a focus of decline to an opportunity for service to the loved one who has cared for you over the years. This shift in mindset can be a gift."
Michele C. Hollow Michele C. Hollow is a freelance writer, editor and ghostwriter specializing in health, climate, social justice, pets and travel. Follow her on Twitter at @michelechollow.   Read More