February 12, 2020
Complex Patients Thrive with In-home Medical Care
Read to learn more and download our eBook, "House Calls in the New Age of Health Care."
As the U.S. population ages, the prevalence of complex patients grows. A care gap has emerged as we work to meet the needs of these complex patients. Most older adults have at least two chronic conditions, are at risk of falls, and one in four suffers from behavioral health conditions.1
Patients with complex and chronic conditions comprise much of the five percent of patients who make up 50 percent of all healthcare spending.2 The increase in this population is raising healthcare costs nationally. One primary reason that these complex patients are most expensive to treat is due to increased mobility issues and difficulty visiting physician offices proactively. These patients often seek care urgently from ambulatory ser­vices such as urgent care or emergency departments. These urgent visits often lead to unnecessary hospitalizations.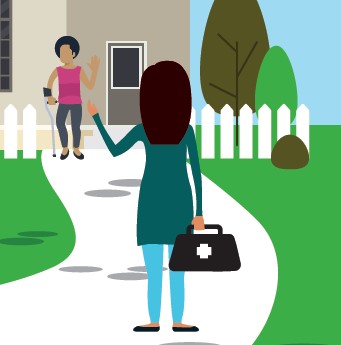 Common chronic conditions among Landmark patients
Patients selected for the Landmark program typically have multiple chronic conditions. The most common conditions among Landmark patients are:
Depression
High blood pressure
Dementia
COPD
Diabetes
Heart disease
Chronic kidney disease
Vascular disease
Cancer
How are Landmark patients selected?
Landmark patients are those identified by the health plan of being high risk, and they have a minimum of five chronic conditions. Once identified for the program, a Landmark nurse care manager completes an assessment for the patient and develops a customized care plan that incorporates the patient's goals.
Landmark services provided to the patients include, but are not limited to:
Urgent visits
Routine visits
Post-discharge care
24/7 phone support
Landmark's partnership with health plans feature a home-based clinical model, using house calls, 24/7 telephone and in-person support, and an interdisciplinary care team. Landmark's full, multidisciplinary team consists of physicians, physician assistants, nurse practitioners, nurse care managers, social workers, pharmacists, dietitians and behavioral health providers.
To learn more about how complex patients thrive with in-home medical care, click below:
References:
1. https://www.ncoa.org/news/resources-for-reporters/get-the-facts/healthy-aging-facts/).
2. "How Home-Based Primary Care Can Reduce Expensive Hospitalizations" Havard Business Review. May 16, 2019. https://hbr.org/2019/05/how-home-care-can-reduce-expensive-hospitalizations