August 25, 2020
How to Stay Healthy During Coronavirus
Sara O'Leary, registered dietitian, shares recommendations on staying healthy during the pandemic.
Sara O'Leary, registered dietitian at Landmark, meets with patients during the COVID-19 pandemic by phone or video. O'Leary sees firsthand how the pandemic has impacted nutrition. Today, she shares her recommendation for how to stay healthy during coronavirus.
Coping with Stress
O'Leary says, "I see two common issues during the pandemic. People either overeat or under eat, depending on how they handle stress." If you struggle with eating too little, O'Leary recommends setting a timer for every two to three hours as a reminder to eat a snack or meal. Healthy, high-calorie foods such as peanut butter on toast, granola or unsalted nuts are great options.
O'Leary encourages those struggling with stress-related overeating to take notice of what is bothering them. Ask yourself whether you are bored, stressed, lonely or actually hungry. "Everyone is processing anxiety and stress, but we can avoid the reaction that sends us from the emotion to the kitchen," O'Leary explains.
She tells patients to ask themselves, "What would help me in this moment? That may be calling a family member or friend, making a cup of soothing tea, going for a walk or deep breathing." If you are truly hungry, O'Leary recommends a wholesome snack or meal made up of whole grains, beans, fruits or vegetables.
Finding Inspiration in the Kitchen
During the pandemic, many people miss group gatherings and dining at restaurants, and are tired of cooking or uninspired in the kitchen. O'Leary encourages people to experiment with a new cuisine such as Mediterranean food. "Try new foods or try recipes you saved from the past. Get back to what brings you joy," O'Leary says.
For recipe inspiration, O'Leary recommends the food blog, "Forks Over Knives." If you are comfortable getting takeout, O'Leary encourages you to order baked or grilled options and vegetables. If you are looking to limit salt or fat, ask for sauce on the side instead of on the plate.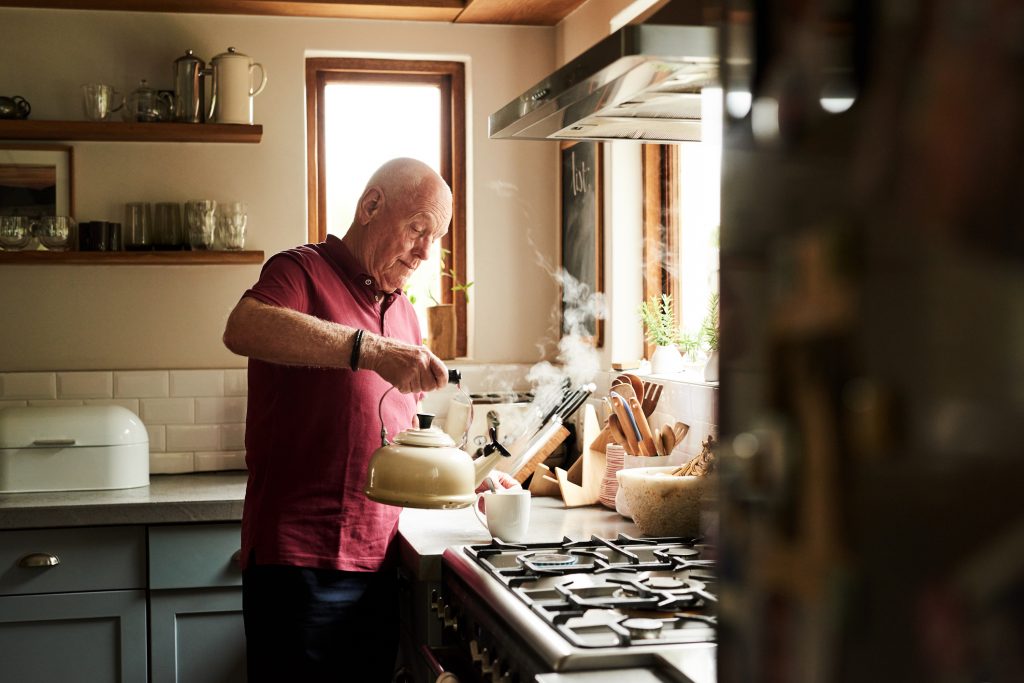 Creating Healthy Habits
O'Leary breaks down how to build a plate with healthy portions. She says, "Fill half of your plate with non-starchy vegetables like a salad, tomatoes and cucumbers, asparagus or broccoli. Add starchy vegetables or whole grain like half an ear of corn, sweet potatoes, whole grain pasta or rice to a quarter of the plate. The last quarter of the plate should be a healthy protein such as beans, chicken or fish. For dessert, fruit is a great option, especially in the summer!"
In addition to creating healthy meals, O'Leary encourages people to add movement into their day. If you  usually visit a gym or studio, you can download apps for at-home workouts or attend virtual classes. She recommends standing and moving every hour. "Set a timer every hour to get up and move. Stand up, stretch and refill your glass of water," O'Leary says.