January 11, 2022
Landmark Health Available in Kansas, Oregon, and Washington!
Providing in-home medical care for eligible UnitedHealthcare members with multiple chronic conditions, at no additional cost.
Eligibility
If you are eligible for Landmark services through your UnitedHealthcare plan, you will receive a letter enclosed with a brochure explaining the services available to you.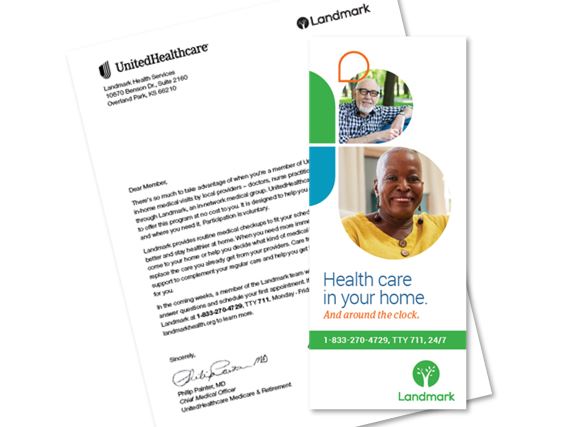 In the coming weeks, a member of the Landmark team will call you to explain the program, answer questions and schedule your first appointment. If you have any questions, please call Landmark at one of the following locations closest to you Monday – Friday, 9 a.m. – 6 p.m. local time:
Kansas: 1-833-270-4729, TTY 711
Oregon/Washington: 1-833-270-4722, TTY 711
We care for you where you are – whenever you need us.
You can have in-home medical visits by local providers – doctors, nurse practitioners, and physician assistants – through Landmark, an in-network medical group.
Landmark provides routine medical checkups to fit your schedule. These visits can help you feel better and stay healthier at home. When you need more immediate care, a Landmark provider may come to your home or help you decide what kind of medical help you need. Landmark doesn't replace the care you already get from your providers. Care from Landmark provides additional support to complement your regular care and help you get the care you need when it's convenient for you.