October 8, 2020
Landmark Helps Patients Through Wildfire Challenges
Landmark's outreach to patients during periods of crisis highlights the need for value-based medical care in the U.S.
During natural disasters, local Landmark teams work to ensure the safety of all its affected patients. The enhanced level of care that Landmark provides is especially important for older and complex patients, as illustrated during this year's expansive wildfires. Over 60% of Landmark patients living in or near wildfire areas (including Northern California and the Pacific Northwest), have pulmonary disease.
To best care for patients, the local Landmark teams actively monitor the areas affected by fires and overlay the affected areas onto patient location maps. Based on the patient/fire mapping, the Landmark team calls every patient within affected areas to support them in identifying what they need to mitigate health issues and proactively identify what they may need if evacuation is necessary.
Landmark's targeted outreach to patients during periods of crisis highlights the need for value-based (outcomes-based) medical care in the U.S. By taking a holistic and long-term outlook for each patient, medical care becomes more than episodic management.
Local Landmark Teams Monitor and Mobilize
When the wildfires began, Landmark quickly developed new ways to identify and prioritize patients with chronic lung disease who are at highest risk of respiratory complications from the poor air quality.
Karey Hedden, Director of Health Services in Washington State, says, "We monitor the fires throughout the week, and focus initial outreach on patients within the directly impacted areas. We have been adjusting outreach based on new or changed fire/evacuation boundaries."
According to Landmark's Regional Medical Director in the Pacific Northwest, Jeremy Berman, MD., "Several Landmark patients needed immediate assistance with evacuation. Landmark coordinated with local resources such as the Red Cross and local city managers to help patients evacuate."
Landmark patients were most seriously impacted in the areas around Portland, Oregon. Hedden says,
"We called our patients and assessed whether they were prepared to evacuate. We advised them to stay inside while the smoke was bad, determined whether they had enough portable oxygen, a power supply, prescription medications and evacuation plans."
Hedden gives one example of a patient who had to evacuate but couldn't because he didn't have anywhere to take his dogs. Hedden says, "We contacted local resources to help find a place for the dogs." Hedden adds, "We had other patients who couldn't evacuate because they didn't have transportation. We connected them with local resources for transportation. The city manager was able to make sure they had a way out."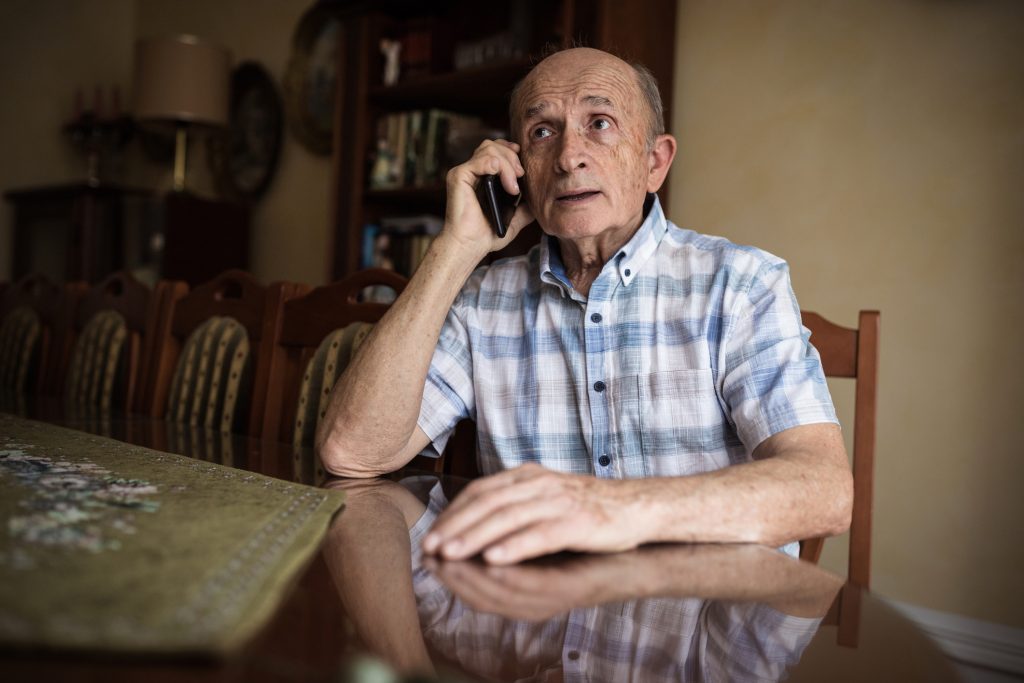 Focused Work from the Whole Team
Hedden says, "There were evacuation levels one, two, and three. For our patients in evacuation level one, we helped ensure they were able to evacuate immediately. For our patients in evacuation level two, we made sure they were packed up and ready to go. We did this for all patients, regardless of their current health condition. We also assessed whether our patients had what they needed to get through the week if they stayed home, in terms of nebulizers, inhalers and resources to obtain groceries. We made sure they had their basic needs met."
Landmark social workers and pharmacists took some of the escalations for patients who didn't have the resources to obtain what they needed.
Special Concerns for Patients with Lung Disease
For patients with chronic lung disease, poor air quality is a serious problem. Dr. Berman says, "Some of our patients really struggle when there is poor air quality. We were seeing more exacerbations among our patient populations and an uptick in medical needs."
Dr. Berman adds, "Our entire region experienced poor air quality, so we were very proactive about calling patients to check in on their health needs. For this, we focused first on the highest level of lung disease, such as those with a diagnosis of COPD, chronic respiratory failure, and those dependent on oxygen."
Dr. Berman explains, "Air quality index (AQI) is a measure of air quality based on particulate matter in the air. A level less than 50 is normal. 500 is the highest level of poor air quality. Portland was consistently between 400 and 500, and the Puget Sound and Spokane areas were at 200 – 400. There were multiple days that the Pacific Northwest had the worst air quality in the world."
Hedden says, "Because of the poor air quality, it was important for us to figure out quickly whether our patients on oxygen had enough oxygen supply on hand and whether they had backup power. Many areas were losing power."
Oxygen delivery depends on AC power. Most patients should have a source of backup power if they have oxygen prescribed, but backup power typically only lasts four to 10 hours. Dr. Berman says, "We help our patients create a plan for if the power goes out. There are evacuation areas where they can go that have power available, such as schools, convention centers and Red Cross evacuation areas. Some patients can afford to go to a hotel that has a generator. But for those who can't, we make sure they know where to go. Despite the smoke, by doing house calls and telephone support, we were able to keep most our patients safe at home, without needing to go to the hospital for respiratory exacerbations."
COVID-19 Complicates the Situation
Dr. Berman explains, "Throughout all of this, the risk of COVID-19 is on everyone's mind. It's a matter of prioritization. For example, if you can't stay at home or at a hotel, there's not a lot of options except evacuation centers. A number of local municipalities have opened additional evacuation centers to create more space and square footage. Safe shelters are now being set up differently to accommodate social distancing as much as possible."
Dr. Berman adds, "Poor air quality is an exacerbation risk factor for those with COVID, whether or not they have additional underlying lung disease. The micro-trauma of smoke inhalation could make the symptoms of COVID more severe. Thankfully, in the Pacific Northwest, the air quality is back to normal."
Fires continue to fluctuate throughout the western states, and hurricane season continues along our eastern coastal states. Watch the local weather reports and contact your healthcare team if you feel unsafe or worry that your health may be impacted by conditions in your area.