October 2, 2019
Why Landmark is More than Just Another Doctor
Learn how Landmark's in-home medical services are much more than just another doctor.
You may ask yourself why you'd want to sign up for another doctor? Maybe, between your primary care provider and specialists, you feel like you have enough doctors as it is! But read on to learn how Landmark is not just another doctor. Landmark provides in-home medical services to help keep you out of the urgent care, ER, and hospital—and home feeling healthy and comfortable.
Convenience of in-home visits and phone support
Landmark does not replace your current doctors. Landmark enhances the care you get from your existing doctors—quickly, conveniently, and in the comfort of your own home.
For example, let's say you wake up at midnight with a high fever. Who do you call? Your primary care provider's office is most likely closed. You could go to the urgent care clinic, but it's the middle of the winter and it's freezing out. And the flu season is in full swing, so the urgent care is probably filled with sick people. There's always the hospital ER and an ambulance ride… but that's expensive and you don't want to be admitted to the hospital if it's not necessary.
That's one time when Landmark can fill in. You can call Landmark, 24/7—even on weekends and holidays. You can talk to a medical provider on the phone and Landmark can help you decide what you need, whether it's just advice over the phone, an urgent home visit from a Landmark provider, or another option.
More time for in-depth questions and education
When Landmark providers visit you at home, they are not rushed. Landmark providers have time to sit with you in your living room or at your kitchen table, and discuss your concerns and answer your questions.
Landmark providers will give you a medical exam, check your vitals, and review medications with you. Landmark works with your current doctors (primary care and specialists) to make sure they follow your doctor's care plan, and to ensure your doctor stays current on your health status.
Landmark providers can also give you medical instructions and hands-on education about your health conditions. This can include information on how best to take medicine, prevention measures, and what signs and symptoms to watch for. This additional time and education can help you avoid unnecessary trips to the ER.
Dietary and lifestyle advice
As a Landmark patient, you have access to a variety of specialists, at no extra cost. For example, many areas have registered dietitians who can counsel you on how food impacts health. Our providers can educate you and your caregivers on good nutrition, healthy eating habits, and nutritional monitoring. Landmark providers may consult with your primary care providers and specialists to determine your unique nutritional needs and diet restrictions. They can also assess your current dietary nutrition and help create a custom dietary-care plan for you.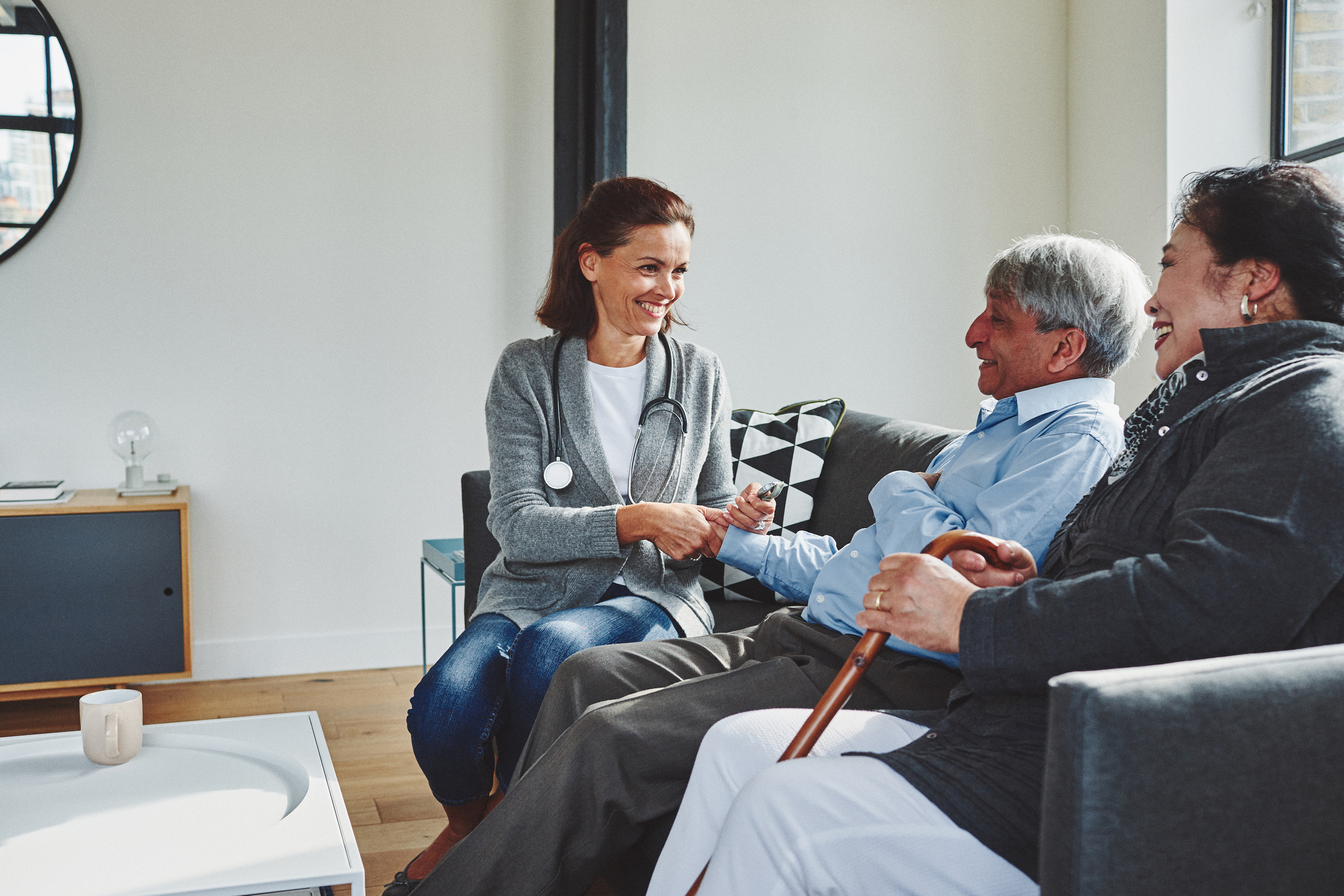 Safety check on your home
When you sign up for Landmark, your provider can check your home for any safety concerns. This can include a home "fall risk assessment" that can include preventive steps you can take to help minimize your risk of falling in your home. Landmark knows that the vast majority of people wish to remain independent in their home for as long as possible. That's our goal too.
Falling is not an inevitable part of aging. However, according to the National Council on Aging (NCOA), statics show that:
One in three Americans aged 65+ falls every year.
Falls are the leading cause of fatal and non-fatal injuries for older Americans.
Falls threaten seniors' safety and independence and generate enormous economic and personal costs.
Through practical lifestyle changes, the number of falls among seniors can be reduced substantially.
Mental health resources
Mental Health concerns often go unnoticed, or unaddressed during routine doctor's visits in the clinic. Even when they are addressed, patients often have a hard time finding available or affordable services. At Landmark, providers enable access to mental health services and work to break down the stigma around mental health concerns.
Landmark provides patients with easy access to mental health resources, including visits from Mental health practitioners. They are available for every patient under Landmark care when needed.
Landmark provides much more than just another doctor – they provide patient-centered care that supports you and all aspects of your physical and mental health.