September 28, 2020
Landmark Services May Help You Save on Medical Expense
Download our new infographic showing the average out-of-pocket costs associated with ER visits, hospital admissions, and skilled nursing facility stays for Medicare Advantage patients.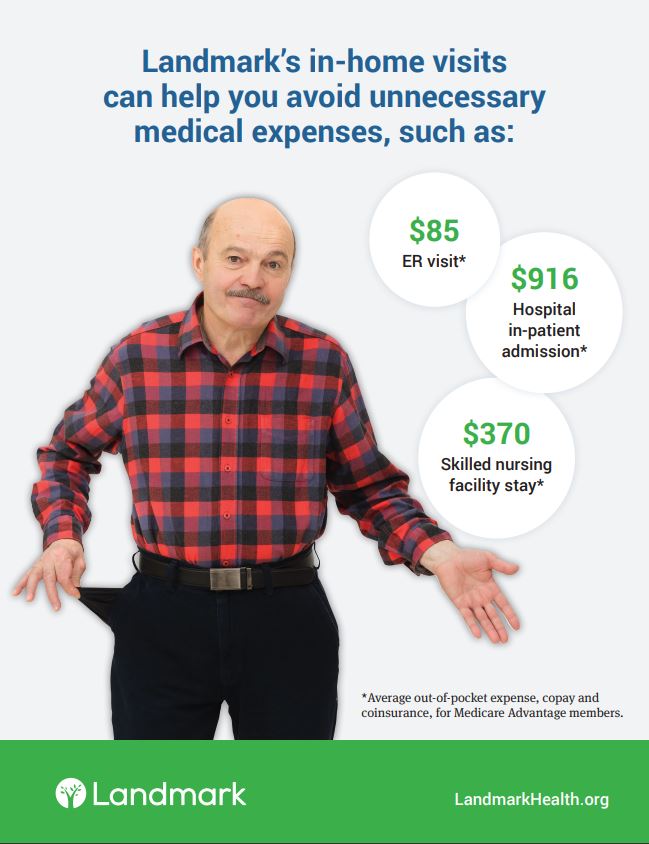 Did you know that Landmark's in-home visits can help you minimize medical expenses? By using Landmark services, you may avoid unnecessary hospital visits and their out-of-pocket costs.
For example, let's take the story of Joe, an 82-year old male Landmark patient with COPD, depression, and dementia.
Scenario 1, with Landmark:
Joe feels anxiety and shortness of breath and calls Landmark directly.
A Landmark medical provider consults with Joe and his wife over the phone and determines that an ER visit is not necessary. Within 60 minutes, a mobile Landmark provider arrives at Joe's home to give him medicine to help manage his acute episode of COPD and anxiety.
Within a couple days, a Landmark nurse practitioner and behavioral health provider update the care plan for Joe's conditions and prescribe an anti-depressant. Landmark checks in on Joe by phone one week later, to make sure everything is going well. On the next in-home medical visit, Joe's provider gives him and his family more information on depression and COPD.
Throughout this entire experience, Joe never leaves home.
Scenario 2, without Landmark: 
Joe goes directly to the hospital emergency room for his anxiety and shortness of breath.
When Joe arrives at the ER, the hospital recognizes that he has multiple chronic conditions.
Because the hospital providers are not familiar with Joe's background, they take the precaution of admitting him as an in-patient. He stays in the hospital for five days of testing. Then Joe is discharged to a skilled nursing facility for fifteen days of rehabilitation.
In addition to the stress involved with being away from home for twenty days, Joe also has out-of-pocket expenses (including copays and coinsurance). As a member of Medicare Advantage, he pays approximately $85 for the ER visit, plus $916 for the in-patient hospital admission, and $370 for the skilled nursing facility stay.
Without Landmark, Joe has been away from home for twenty days, and has out-of-pocket medical expenses of over $1,300.