February 27, 2023
What It's Like Going Door to Door to Care for Our Community
Landmark physicians and care team members are going door to door conducting home visits to address the social determinants of health in the Detroit area. Dr. Gale Darnell shares her experience of community care from the sidewalks.
By: Dr. Gale Darnell, MD FACEP
The first time my mother ever had a home visit from a nurse practitioner, it was summertime in Detroit. Her name was Katrina, and my mom promised to make her a sweet potato pie because of how well she took care of her. And as promised, she delivered the pie to Katrina just prior to Thanksgiving 2022.
This was before I joined Landmark's team as Associate Medical Director. My mom and I live about 12 minutes apart, and on one of my many visits after I had accepted the role at Landmark, I noticed a Landmark magnet on her fridge with their phone number to call 24/7. I asked her about it, and that's when we made the connection. "That was that nice nurse that came out here to see me," she reminded me. It was the sign I needed that I made the right decision about where to take my career next.
Our practice setting includes neighborhoods that are classic snapshots of, "The Motor City". There are a lot of retired union and auto worker families. That includes people like my dad who worked for General Motors, retired UAW folks from Chrysler and Ford, and retired local teachers as well fill these homes. So often, I have an instant connection with these patients and great conversations are sparked. The patients show such gratitude to the Landmark providers who are coming in to help maintain their health and safety right there in the privacy of their homes.
Like myself, many of my team grew up in Michigan — Grand Rapids, Detroit, Ann Arbor — but we all now live in the Southeastern Michigan area, so our team has a culture of togetherness and neighborliness: We are ultimately neighbors taking care of our neighbors. We're out in our community making it a healthier place — starting with one patient, one house, one family at a time.
The biggest thing we all understand as a community of providers is there's a limited amount of hours in the day, and we want to do everything we can to help the patients in front of us. This is why I see my Landmark team as a bridge, strengthening the relationship between the patient and their primary care team.
At Landmark, we provide in-home primary care to medically complex senior patients with an average of at least 8 chronic conditions. As many as 40 percent of our engaged patients have 12 or more prescriptions. Because we specialize in treating patients with multiple chronic conditions, our care allows a primary care provider to devote more time to their other patients and provide more preventive care to those smaller problems before they become larger issues.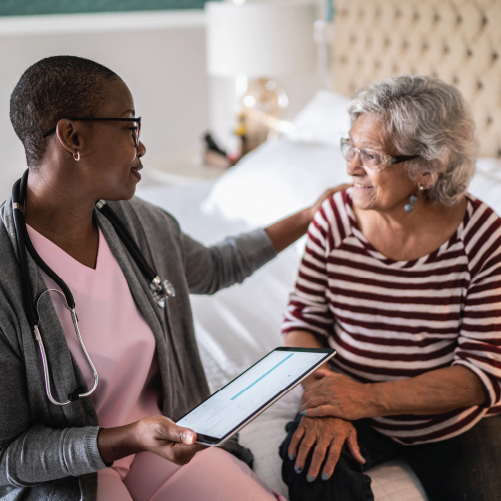 Let's take a look at one of those patients. We've seen them 10 times over the year, our dietitians, nurse care managers, and social workers have added on another 30 or so phone calls. That's a huge lift we take off the hands of the primary care practices. Meanwhile, we're communicating these updates constantly back to those teams. We're working in tandem and as an extension of their medical team, out in the community.
A few providers I've spoken with said their patients were in crisis situations that didn't require a hospital visit, but they never would've known until after that patient landed in the hospital. As an emergency physician, I understand that there are many urgent care moments that don't require a hospital visit — but unfortunately that's where many elderly patients end up. That's laying on a hard cart for 24 hours, long enough to get a pressure ulcer or fall off and have another injury — not to mention going through the emotional and physical stress of being in the emergency room waiting for care.
Because Landmark is present and supports calls 24/7, we've managed to avoid that heartache for so many patients. I've been called into plenty of situations with the patient in the home where they or a family member were slightly concerned, and we've called their primary care provider and had everything sorted with us there. And then, if they do end up needing a hospital visit, we're there for a home visit upon discharge to assist  them their prescriptions and ensure that the home environment is set up to support those medical needs, including booking follow-up appointments with their primary care physicians and writing them on the fridge calendar. Even those moments where a patient is requiring or wishing to enroll in hospice, that's where Landmark can truly shine as an ambassador for the patient.
As eyes and ears in the home, we are an extension of the primary care office that enhances that relationship with their providers. Nowhere is this more apparent than addressing social determinants of health, which is huge for this Southeastern Michigan community. At Landmark's morning huddles, we discuss everyone we saw the day before with the entire team, including social workers and behavioral health specialists, so there's immediate camaraderie about how to get the patient the best follow-up care they need.
On one patient visit, while I was following up about other conditions, I noticed enough signs in her daily living habits to screen her for depression. Once I prompted her, she did express that she needed to see someone. The next morning, I was able to immediately coordinate that with my team and form a plan of action to personalize that care to that individual. This particular patient was able to benefit from the behavioral health clinicians that are a part of every Landmark team. And, because I brief the same team on my patients, they're already familiar with her care and needs to get started.
What has struck me the most as a provider, are those moments when you encounter a neighborhood or pull up to a house that may look in real disrepair. Our immediate reaction is to feel intimidated. Our brain tells us, 'That looks like a scary house to go into.' But in reality, our impact on those families can make the biggest difference because of how dire their need for services is. And it's being able to sit down with those patients that makes the difference. That moment when they look into your eyes across the kitchen table, and it clicks exactly how they're going to take action on their health from your conversation. If you can make that connection, that's how you change a life.
At Landmark, we all understand the mission and vision: We're here to serve our community.
BIO: Dr. Gale Darnell, MD FACEP is a board certified emergency medicine physician. She received her medical degree from Wayne State University School of Medicine in 1993 and completed emergency medicine training at DMC Sinai-Grace Hospital in 1996. She has served as senior staff physician at Henry Ford Wyandotte Hospital for 23 years. Dr. Darnell is truly thankful for the opportunity to assist in the training of compassionate emergency medicine physicians by serving as core faculty for Henry Ford Wyandotte Hospital Emergency Medicine residency for 13 years. She now lives Grosse Pointe Woods with her family. You can find her with family and friends at the lake front park, minutes from her home, taking walks, playing, feeding the ducks or just sitting by the calming water.