January 16, 2020
Why Your House Isn't too Messy for In-home Medical Visits
Think your house is too messy for in-home medical visits? Think again!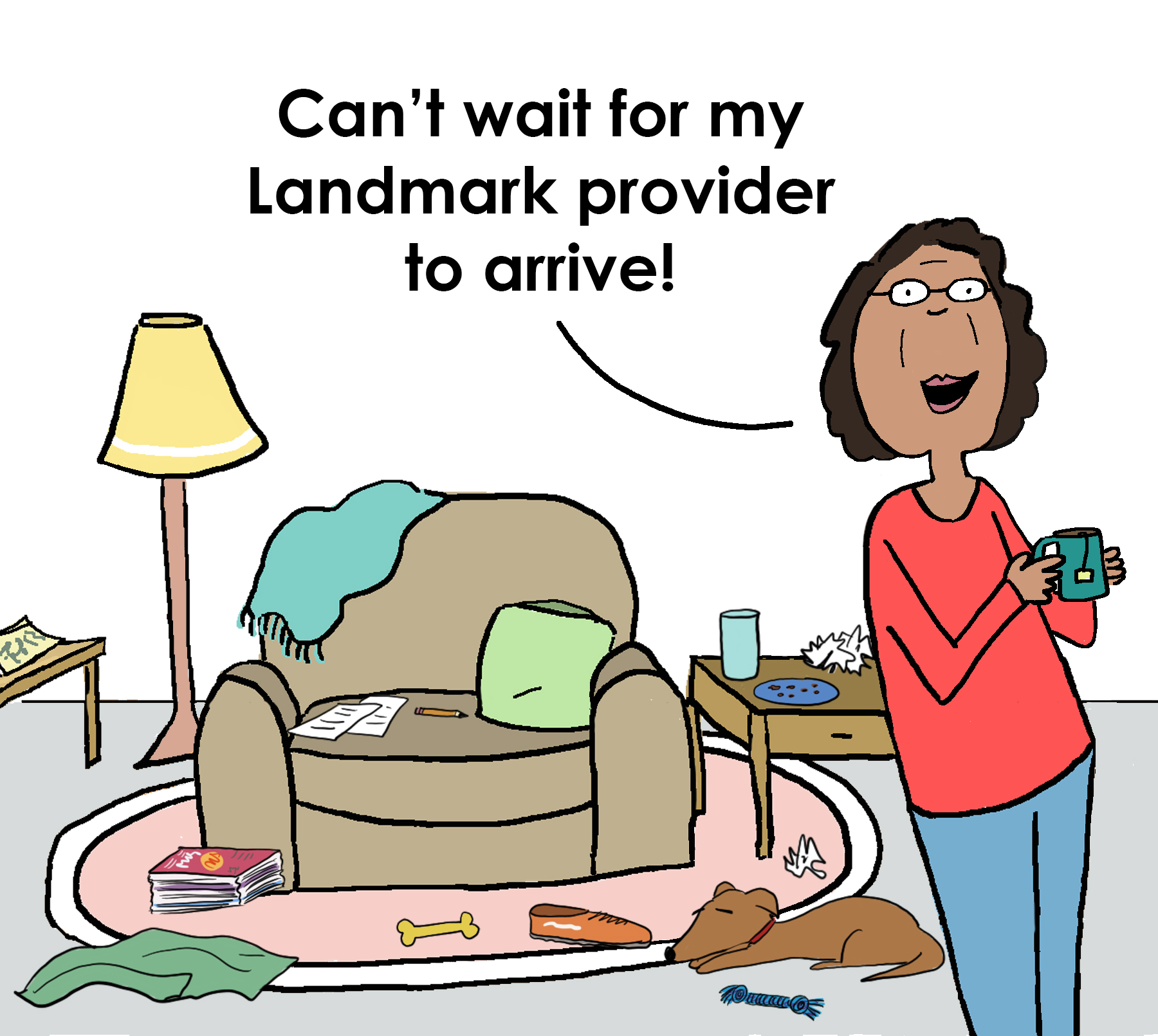 In-home medical visits have many benefits for patients, especially those that have chronic illness, mobility challenges, lack of transportation, or cognitive issues. Unfortunately, many of those who could benefit from in-home medical visits decline the service, because they worry that their home is too messy for visitors.
When you're not feeling well, the last thing you want to do is pick up a vacuum cleaner or a scrub brush. Landmark understands that. Landmark providers work with people with chronic illness every day. They are not concerned whether your home is disorganized or cluttered—or whether there is cat hair on the rug or unopened mail on the countertop. Our primary concern is you, your health, and whether you have the resources you need to live your best life.
Most people's homes are not immaculate. Landmark providers see a wide range of home sizes, locations, cleanliness, and are unphased by it. After all, your home is for you to live in, not a showroom. Most people's homes are not what you'd see in a magazine. Everyone is different when it comes to cleaning and tidying up. Clutter and unpicked up stuff are normal for most people.
Landmark providers can help you access resources to deal with the clutter and mental aspects of hoarding if needed. This extreme form of clutter is the minority of most home situations.
Landmark understands that there is more to do in life than clean the house. Pets, extended family, hobbies, reading materials, activities all can create joy as well as mess. For those with illness, keeping the house super tidy can pose an extra challenge.
Keep in mind, our providers are people too, with pets, kids, busy schedules and activities. When our providers visit you in your home, they only need a chair to sit in and a clean table to set their things. Beyond that, they are professionals with a job to do, and they are not concerned whether your home is "guest-ready" or not.  Landmark providers are focused on speaking with you and understanding your needs and are not focused on the dust on your mantle or crumbs in your carpet.
Any professional who regularly visits people's homes are used to seeing a range of cleanliness. Handymen, tutors, therapists, contractors, repair people, delivery folks, home-care aides and in-home medical providers are all professionals and are not concerned with clutter.
Finally, before you decide to decline in-home medical visits, think of all the benefits of medical house calls you would be missing out on, such as:
More time between you and your provider to discuss your physical and mental health challenges or concerns – including getting access to resources that can help improve your quality of life as well as your physical, mental, and emotional well-being
Comprehensive and consistent monitoring and diagnosis of illness
Lower health care costs by providing you with preventative care and urgent visits that can keep you from making unnecessary trips to the emergency room.
To learn more about Landmark's in-home medical visits, visit www.landmarkhealth.org.