September 26, 2022
Women In Medicine Month: Katrina Booth, MD
Katrina Booth, MD has always been interested in helping people. Both of her parents are physicians. "Service to others was always a part of who I am, and math and science were my strengths, so medicine just felt like a natural fit for me," shares Booth.
Career Beginnings
Booth completed her residency in internal medicine at the University of Chicago Hospitals. She finished her clinical fellowship in geriatric medicine at the University of Alabama.
After completing her residency, she accepted the position of director of inpatient geriatric clinical programs at the University of Alabama. In that role, she practiced hospital-based geriatric medicine and implemented system wide efforts to improve geriatric care, including a focus on the interdisciplinary team approach.
Finding Landmark
After six years into that role, Booth moved to Ohio with her husband. She came across Landmark in her job search. Booth explains, "I was interested in Landmark after learning about its interdisciplinary approach to care in the home setting. I shadowed an interdisciplinary team meeting where professionals in different specialties talked in depth about patients. I thought, this is what complex care and team-based care should look like."
Booth joined Landmark as the regional medical director of the Ohio/Kentucky market. Booth explains, "The first few months were very interactive. Our team met in the office frequently and collaborated on patient care. As the medical director, it was great for me to get to meet with our team, make suggestions, and check in with different disciplines."
A few months later, the COVID-19 pandemic broke out. "Admittedly, it was a hard transition for me. I missed the face-to-face meetings. We moved to virtual meetings, and I had to learn how to best support my team without having those in-person touch points," Booth shares.
Like the rest of the healthcare system, Booth and her team adapted. She held regular check-ins with leadership, set clear clinical initiatives, and developed more structure for ongoing communication. "I've seen my team pivot and still come together to give our patients the best care."
The COVID-19 pandemic also hit home on a personal note and shed light on needing to be closer to family. Booth and her husband have a young child and no close family in Cincinnati. When daycare closed for several months at the beginning of the pandemic, they drove their son to Houston to live with grandparents while they commuted back and forth from Cincinnati to Houston every two weeks.
When Landmark expanded into Houston, Booth applied for and was promoted to the Regional Medical Officer for the Texas region and relocated to Houston, living in the same neighborhood where her husband grew up and his parents still live.
Working as a Team
Reflecting on a recent patient experience, Booth told the story of a Landmark patient who the team came together to help. A Landmark provider visited the patient and had concerns about the patient's living environment, frequent hospital visits, and capacity to make decisions. A Landmark social worker visited the patient with a physician to evaluate the patient.
The interdisciplinary team then met to discuss options and how to best help the patient who was in danger of self-neglect. The patient was referred to Adult Protective Services to connect the patient to community resources. The social worker communicated with the hospital system to make them aware of concerns for the patient.
Booth says, "Not only did the team collaborate to help this complex patient, but they contacted community resources to ensure the patient had a safe environment to live in. They also contacted the local hospital system this patient frequented to ensure patient concerns were charted and made known to the patient's providers."
Medicine Needs Women
When asked why women should pursue a career in medicine, Booth simply states, "Women are great in medicine and make great leaders." She continues, "Women are natural caregivers. We thrive when working together to help others. Women seek to understand and are great listeners. We anticipate needs and change. We consider downstream impact which allows us to make thoughtful decisions."
Considering what she would tell a woman considering a career in medicine, Booth says, "The sky is the limit." Women in the medical field have come a long way. Booth's own mother was one of five women medical students in a class of 100 students. In the 2019-2022 enrollment study, the American Medical Association reported that 53.7% of MD programs are made up of women.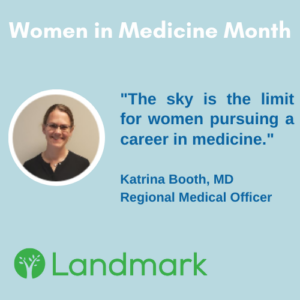 Finding a Mentor
Booth explains, "Just because a medical specialty has been commonly known as a 'man's specialty,' doesn't mean you shouldn't pursue it." When deciding how to forge a career path in medicine, Booth recommends finding a good mentor.
"When I was a new faculty member, I asked an established colleague from the University of Alabama to breakfast. I asked her a lot of questions and learned about her role. She became a mentor to me, and we went on to collaborate and build programs together. One conversation can open a lot of opportunities. If you want to learn about someone's job, ask them if they have time to meet with you," Booth explains.
Finding a female mentor can help women make connections, share struggles, and provide opportunities to learn from one another. Booth shares, "We can learn from those who came before us and share that knowledge with those who come after us."
Resources
https://www.ama-assn.org/education/medical-school-diversity/women-medical-schools-dig-latest-record-breaking-numbers#: