May 4, 2022
It's True: Treating Mental Health Issues Improves the Success of Chronic Disease Treatments
Integrated physical medicine and behavioral health improve patient outcomes and create better patient care.
People living with chronic diseases are affected in more ways than anyone can imagine. In addition to the physical symptoms of the illness, emotional symptoms such as sadness, grief, and denial often accompany a chronic diagnosis.
Mental healthcare is integral to overall health care and good patient outcomes. Landmark refers to mental health as "behavioral health," and it's a core component of our care model.
Treating mental health alongside chronic disease creates better outcomes
Visiting a patient at home allows Landmark care providers to assess social and behavioral aspects of their health that cannot be seen by a primary care provider in a clinic. This unique insight is valuable, as mental health goes hand-in-hand with chronic disease.
For example, "diabetes along with depression is prevalent," said Dr. Chris Dennis, Chief Behavioral Health Officer for Landmark. Diabetes affects approximately 35 million Americans, and they are two to three times more likely to develop depression. People with diabetes dealing with depression have poorer glycemic control, decreased physical activity, more obesity, more end-organ complications, and impaired function, according to the American Diabetes Association.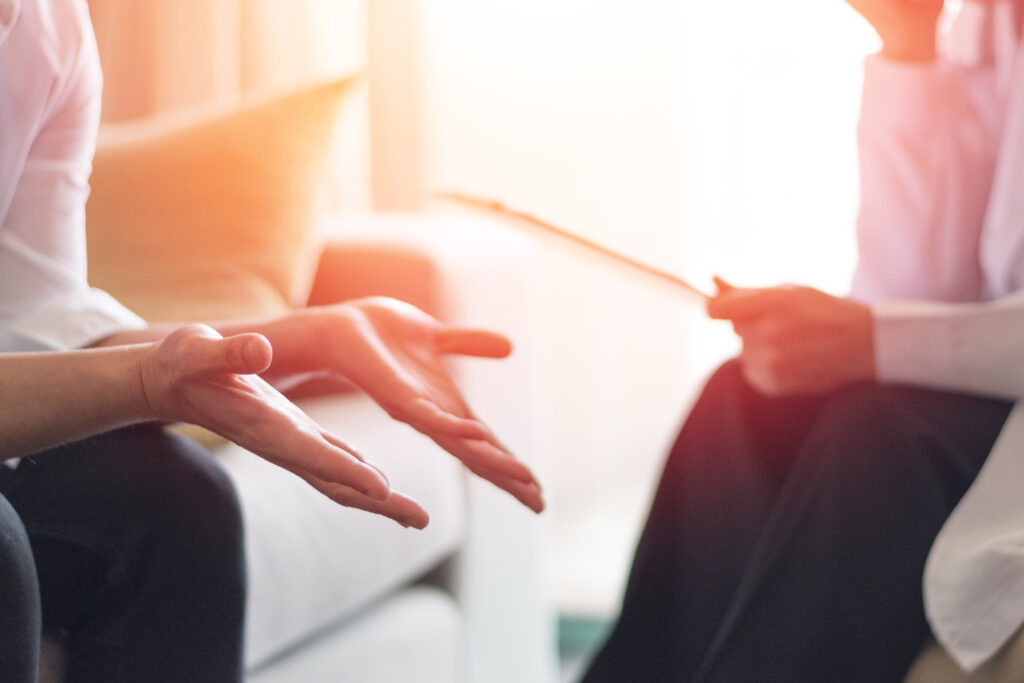 Dr. Dennis describes how treating mental health impacts physical symptoms. "When people are happier, their blood pressure is better," he said. "Also, when they're happier, they feel better overall."
Other common mental health issues affecting behavioral health:
New diagnoses often lead to anxiety
Loss, loneliness, and grief can cause insomnia
Shortness of breath can result in anxiety
Substance abuse will often accompany anxiety and depression
Anyone can identify a mental health concern 
A mental health condition can sometimes be difficult to distinguish from normal behavior. A patient may notice a behavior change themself—or a health provider, friend, or relative may see it, said Dr. Dennis. The most crucial step is to identify a concern early and ask for help.
Landmark's in-home visits are a unique and effective mental health intervention model. Behavioral health providers can identify and treat mental health needs in the home with a holistic approach to care, right alongside all other healthcare.
"We screen every patient for behavioral health conditions annually," said Dr. Dennis. "And, we're always on the lookout for a change in condition—or a family member may identify something—and alert any care team member, and we can mobilize a resource."
"We always share our findings with the primary care provider, including decisions on medications or types of therapies," said Dr. Dennis. "We involve the health plan to engage external resources and can also leverage telehealth."
Destigmatizing mental health is essential 
"Stigma is certainly still there, but there's greater and greater awareness and far more understanding," said Dr. Dennis.  "Because of the efforts of our collaborative care team including providers, behavioral health specialists, and more, these conversations never exist in a silo."
Landmark's behavioral health teams include board-certified psychiatrists, behavioral health advanced practice providers, social workers, and care coordinators. The social workers at Landmark, have a special role, and always work alongside mental health providers. If the social worker identifies unmanaged behavioral health needs, they consult with a behavioral health practitioner for a course of action.
Landmark can help in managing any of the following conditions or situations:
Depression
Anxiety
Stress
Memory Loss
Alzheimer's Disease
Mood Disorders, including seasonal affective disorder
Living or Service Needs
and more
Patient loneliness is also a health crisis
The continued fall-out of the COVID pandemic has left an impact of loneliness and decreased visits to providers for patients with chronic disease.
"For too long, conditions went untreated," said Dr. Dennis. "Perhaps even the anxiety of going into an office or getting an Uber was too much. But a home-based model helps us see these patients and get them the care they need."
Some patients with anxiety or other mental health conditions—who are permanently housebound—may only see their Landmark care team and no one else.
If you or a loved one is experiencing any of the symptoms mentioned previously, talk to your doctor. Landmark-eligible patients can also call Landmark 24/7 to talk with a provider. You can also find resources at the National Institute of Mental Health.