November 11, 2021
Landmark Patient and War Hero: Ernest Young
Landmark thanks all those who have served our country.
Landmark is proud to pay respect to all those who have served. This Veterans Day, we are honored to share the story of Landmark patient, Ernest Young.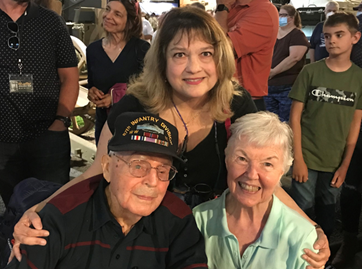 Landmark patients live remarkable lives, and 96-year-old Ernest is no exception. Ernest is not only a war hero, but he is also a talented painter and best-selling author. His book, "The Rifle," details his experience as a World War II veteran, for which he was awarded a Silver Star, Bronze Star, and Purple Heart.
Becoming a Landmark Patient
Having accomplished so much in his life, Ernest does not want health to hold him back from doing the things he loves. Ernest and his family were excited to learn that he can receive in-home medical care through Landmark.
Ernest became a Landmark patient in August 2020. His goal is to continue living at home with his wife. With Landmark, Ernest's family is less stressed because they don't have to travel to medical appointments as frequently. Landmark urgent visits have allowed Ernest to avoid unnecessary hospital and emergency room admissions.
Inspired by Veterans
Ernest continues to inspire those who meet him. He recently attended a book signing at the American Heritage Museum. At the event, he received the French Foreign Legion Medal of Honor.
The amazing things veterans continue to accomplish after their service is an inspiration. Thank you, veterans for your service and sacrifice.