May 20, 2020
Landmark Pulls Together All the Pieces of Your Health Care
Managing all the components of your health care can be challenging. From primary care to specialists and other medical services, there is a lot to coordinate. This is true as a patient, as a caregiver, or as an office-based physician caring for complex patients. Often patients find that even between all their providers, their needs are still not met. This frustrating situation can be costly for patients, payers, and society.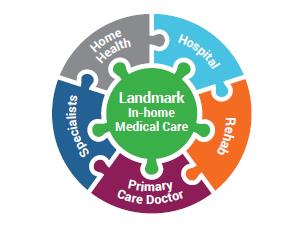 Landmark is here to help.
Landmark providers spend extra time with each patient in their home – often up to one hour per visit. This allows Landmark time to assess the patient's needs. Landmark providers can determine medical and non-medical needs and what additional support the patient may need.
Each Landmark provider has a small panel of patients to care for, allowing him or her to provide more focused care for each patient. Landmark patients also have a full care team to offer additional support.
Nurse care managers and care coordinators offer phone support.
Every Landmark patient has a nurse care manager (NCM) who is a registered nurse. Nurse care managers help patients and caregivers manage health conditions over the phone. With input from Landmark providers, NCMs help create an individual plan focusing on the patient's care needs. This plan guides the NCM in helping the patient meet his or her goals. The NCM provides the patient with education about their health conditions and how to manage them. NCMs help patients obtain the resources needed to overcome barriers to their healthcare success.
The patient's Landmark care coordinator is often the first voice patients and caregivers hear when they call Landmark. Care coordinators offer support and assure calls are directed to the best person to meet the need. Care coordinators arrange other aspects of patients care such as scheduling visits, ordering labs, checking on medical records, and requesting discharge paperwork from recent hospital stays.
The extended Landmark care team provides specialized care.
The Landmark care team includes a social worker, behavioral health provider, and sometimes also a healthcare ambassador, pharmacist and dietitian. These specialty team members are brought in to support the patient as needed.
A social worker is referred when the Landmark provider or NCM identify a non-medical need that may impact a patient's care plan. Social workers conduct psychosocial assessments, establish patient-centered goals, and address non-medical needs that are barriers to care, such as loneliness/isolation, financial instability and housing instability.
Behavioral health providers are referred when the Landmark provider, NCM or social worker identify, through use of multiple screening tools, an unmanaged behavioral health need. Behavioral health providers conduct psychiatric assessments, psychopharmacological evaluation and management, and short-term crisis intervention as needed.
How we help pull together all the pieces of your health care.
The Landmark care team pulls together the pieces of your health care in ways such as:
providing your primary care provider with visit notes and consulting on changes to care or medications,
assisting you over the phone, in collaboration with the Landmark provider,
helping you set and meet health and life goals,
gathering social and medical information that helps your providers care for you,
addressing behavioral and social issues that often aren't addressed in traditional medical settings,
helping determine urgent care needs and providing urgent in-home visits,
conducting post-hospital visits to be sure patients are comfortable and on-track with their discharge plans, including new medications.
Landmark fits in with your current medical providers.
Landmark does not replace a patient's current doctors, but augments the care of primary care physicians and specialists. Learn more about Landmark at www.landmarkhealth.org