July 20, 2021
Landmark's Whole Patient Care Delivery Reduces Spend and Improves Outcomes
Landmark brings holistic care to patients with complex conditions.
As the U.S. population ages, the number of patients with multiple chronic conditions is increasing. The growth of this population is a major contributor to the rise in health care costs nationally. Among these patients, mobility challenges can limit the ability to visit physician offices proactively. This lack of routine and preventive care can drive these patients to seek care urgently from emergency departments, which may lead to a hospitalization and a skilled nursing facility stay.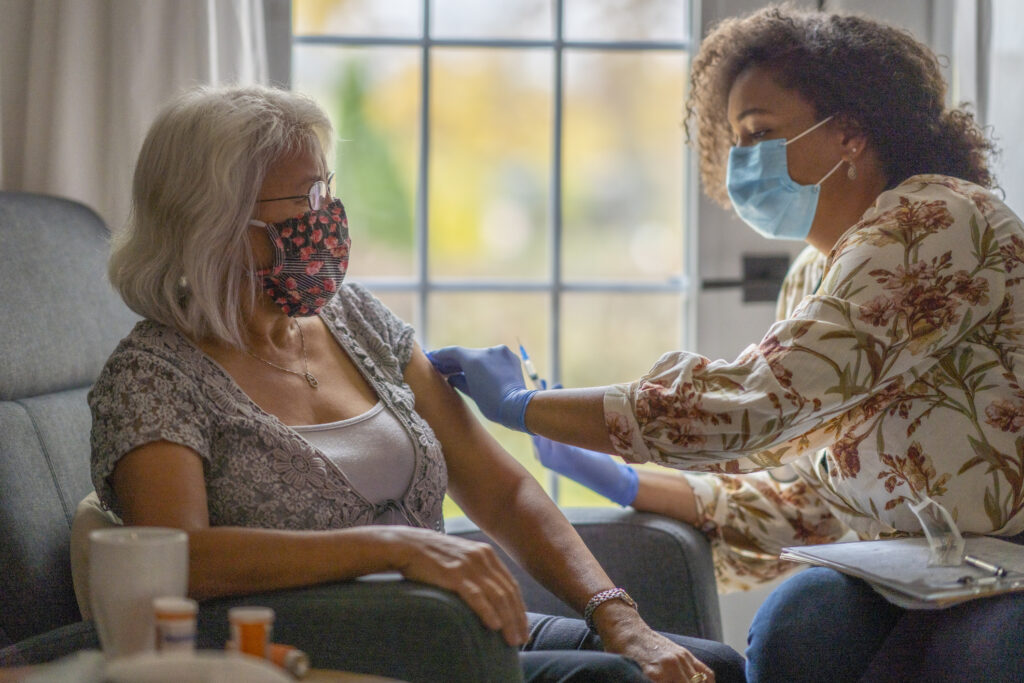 Whole-patient delivery model solves many challenges.
Landmark Health has developed innovative ways to team up with health plans and delivery systems to bring holistic care to patients with complex conditions. Through house calls, video visits, and phone support, Landmark provides:
• routine medical care,
• urgent visits,
• post-hospital visits,
• behavioral health support,
• social work services,
• palliative care and more.
Landmark supplements and augments the care patients receive from their primary care provider and specialists through mobile, longitudinal care available 24/7. Our medical model and technology platform facilitate collaboration, evidence-based care, and accurate documentation. We use proprietary predictive analytics to prioritize patient outreach and to identify and address gaps in clinical care and documentation.
Landmark's whole-patient delivery system has proven effective in helping patients live healthier lives, while reducing unnecessary hospitalizations and medical costs.
What does a typical Landmark patient profile look like?
The average Landmark patient is 77 years old, has more than eight chronic conditions, and has high health care utilization and spend. Landmark patients often face social and behavioral barriers to managing their chronic conditions. Forty percent of our patients have two or more behavioral health conditions, and another 40 percent have advanced renal disease. Many have twelve or more prescribed daily medications.
Landmark bears risk for its members.
Landmark bears financial risk for over 160,000 patients. The risk structure and the amount of financial risk Landmark takes on depends on several factors including the number of eligible patients and population characteristics. In many cases, Landmark assumes full downside risk for all eligible patients, shares in the savings with our partner, and even guarantees our partner value starting in year one.
As a risk-bearing medical group, Landmark benefits when patients stay well at home. Through a payment-for-outcomes model, Landmark can deliver a higher level of personalized care. Landmark's focus on holistic, routine care and prevention results in fewer hospital admissions and patients who live longer, more independent lives.
An integrated clinical team delivers holistic care.
Landmark's value-based care relies on employed, local multidisciplinary care teams to drive meaningful outcomes for patients spanning Medicare Advantage, Medicaid, dual, commercial, and exchange populations.
Landmark's clinical teams include doctors and advanced care practitioners as well as behavioral health and other specialists. Landmark providers have extensive training to care for patients with complex needs and address long-term physical, social, and mental health concerns. This local team of clinicians closes care gaps, reduces unnecessary utilization, and improves outcomes and patient satisfaction. Landmark offers patients:
• In-home diagnostics and interventions to stabilize and treat in-place.
• Support from employed psychologists, psychiatric nurse practitioners and social workers.
• Universal screening, intervention, and treatment of behavioral health and substance use disorders.
• Consultations with Landmark dietitians and pharmacists to help manage patients' care.
• Care coordination to ensure patients' needs are met and their PCP and specialists are aligned.
• Aggressive symptom management and appropriate and timely hospice referral.
Meaningful outcomes.
Landmark is compensated on the quality of our care, not the quantity of visits. We commonly help partners achieve five-star performance metrics from the ACA STARs program, among their most complex members. Some of our outcomes include:
• Proven, consistent improvement in Medical Loss Ratio (MLR) on all Landmark eligible patients of 20 – 25 percent.
• Material reduction in the mortality rates of 26 percent for Landmark patients.
• 20 percent reduction in medical costs for patients during the last 12 months of life.
• 97 percent of Landmark patients respond that, "Landmark has helped me stay out of the hospital or emergency room."
Landmark service areas.
Landmark is actively expanding. Currently we serve patients in more than 50 urban and semi-rural communities within the following states: Arkansas, California, Kansas, Kentucky, Louisiana, Massachusetts, Mississippi, Missouri, New Hampshire, New York, North Carolina, Ohio, Oregon, Pennsylvania, Rhode Island, Texas, and Washington.
If you are interested in learning more or exploring a partnership with Landmark, visit www.LandmarkHealth.org/Partners and fill out the contact form. We will reach out to you.