July 28, 2022
Provider Groups Turn to Landmark to Effectively Extend High-touch, In-home Medical Care to High Utilizers
Primary care organizations are evolving. Fee-for-service (FFS) models pressure primary care providers (PCPs) to provide more services to more patients in less time. With a looming shortage of PCPs, and growing need among aging baby boomers for increased healthcare services, many PCP groups are shifting from FFS reimbursement to newer value-based care models – with shared savings or global risk arrangements – as  a means of better caring for their patients, especially acute seniors on their panels.
Since 2014, Landmark Health and its affiliated medical groups (Landmark) have delivered comprehensive in-home medical care to older adults through value-based relationships with health plans. As more provider organizations begin to bear risk over their patient populations, Landmark is able to bring their specialized expertise in geriatric care management to these groups.
For PCPs moving to a value-based model, building the resources and relationships to effectively manage patient care to improve quality and reduce spending is paramount. Landmark's expertise in reducing costs for 8-10% of the population that drives 50% of costs gives provider organizations the confidence that they can appropriately manage their full patient panel, including their most frail, and succeed in this new environment.
Specialized in In-home Geriatric Care
The average Landmark patient is 79 years old, with eight chronic health conditions. With more than 400 providers performing 335,000+ house calls annually, Landmark has developed deep expertise in caring for complex, older adults.
In value-based models, outcomes matter – and Landmark has proven, at scale, to engage members at a rate of 50 to 60%, reduce ER visits by 39%1, reduce unnecessary hospital admissions by 28%[1], reduce mortality rates by 26%2 and reduce costs by 20%[2]. All while delivering some of the strongest patient satisfactions scores in the industry.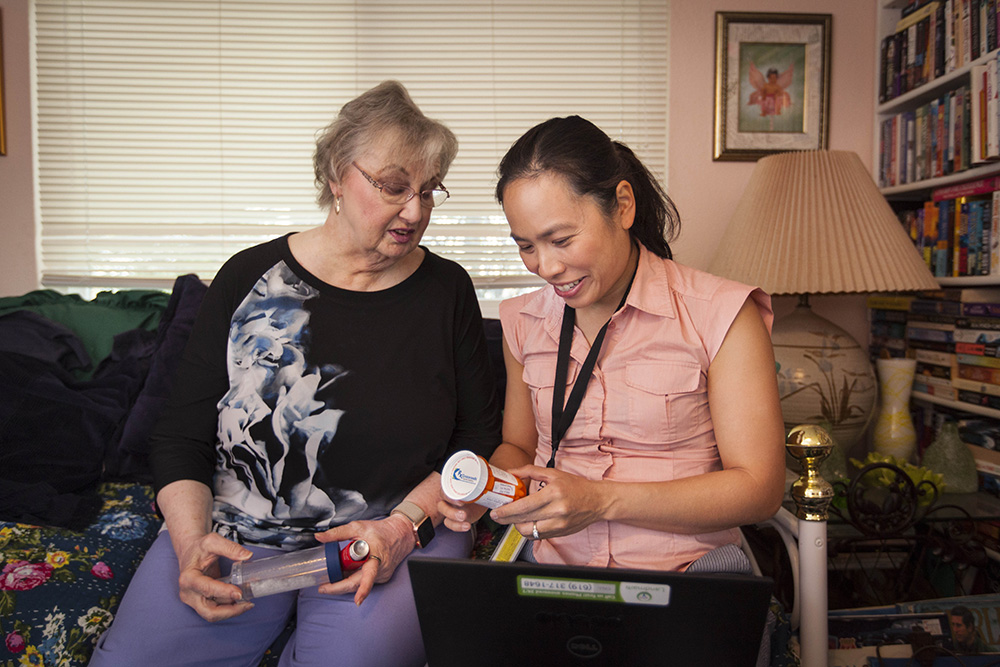 11 Million Americans Need a New Model of Care    
According to CMS, 17% of Medicare beneficiaries have six or more chronic diseases. That is over 11 million Americans who need advanced primary care models today, to ensure they can live their lives and not worry about their medical conditions.
As the U.S. faces a growing 'Silver Tsunami' of older Americans, the lack of broad in-home infrastructure will become a desperate gap in the care older patients need. The population of seniors 65+ is expected to grow from 8% of the world's population in 2015 to 13% in 2035. Now is the time to invest in a healthcare system that works for all patients, especially those with the highest needs and driving the majority of healthcare costs.
Covid-19 is Accelerating the Trend Toward In-home Medical Care
Landmark sees the future of health care in the home. During the pandemic, consumers began demanding care delivered safely to them at home through house calls or virtual telemedicine visits. While this trend is accelerated due to patient concerns about entering crowded health facilities dealing with the coronavirus, longer term the health benefits of convenient, consistent and coordinated medical care from home will have staying power.
Amazon, Instacart, and Netflix have transformed their respective industries over the past decade, and healthcare – for routine, preventive and minor urgent issues – will need follow the trend toward home-based consumption to meaningfully reach patients and drive better outcomes.
A Bright Future for Value-based Care Models
Landmark has grown to cover more than 114,000 lives, with at least a 30% year-over-year growth rate over the past three years. Since the start of the pandemic, demand for the company's value-based, in-home medical care has increased even more. With more than seven years of operational experience in this emerging area of health care, Landmark is positioned to be a go-to partner for risk-bearing entities looking to bend the cost curve on their most complex patients while driving improved safety and satisfaction.
Resources
[1] For Landmark patients in the first six months of engagement compared to the trend in utilization for statistically matched non-engaged patients. Chu, Lihao. A House-Call program that reduces unnecessary variation in utilization and spending among patients with poly chronic conditions. Academy Health Annual Research Meeting, June 25 2018, Seattle, WA. Unpublished conference paper. Landmark Health, LLC, Huntington Beach, 2018. Print.
[2] Mancuso S., MacRae DC., Chu L., Roch-Levecq AC., Denny J., A home-based program that extends life and reduces cost. Poster presented at: Center to Advance Palliative Care National Seminar; 2019 Nov 12-14; Atlanta, GA. Unpublished conference paper. Landmark Health, LLC, Huntington Beach, 2019. Print.