May 19, 2022
Together for Mental Health: Mental Health Awareness Month
Landmark recognizes Mental Health Awareness Month.
Together for Mental Health
The National Alliance on Mental Illness (NAMI) recognizes May as Mental Health Awareness month. Millions of Americans face the challenge of living each day with a mental illness (www.nami.org, 2022).
During Mental Health Awareness month, NAMI is amplifying the message of "Together for Mental Health."
NAMI brings voices together to advocate for mental health and access to care through their blog, personal stories, videos, digital toolkits, social media engagements and national events. By using national resources, individuals and families can get the support they need to live happy and healthy lives. NAMI provides a safe place for connection and community―where individuals can share personal stories to help those struggling. To learn more, visit their website.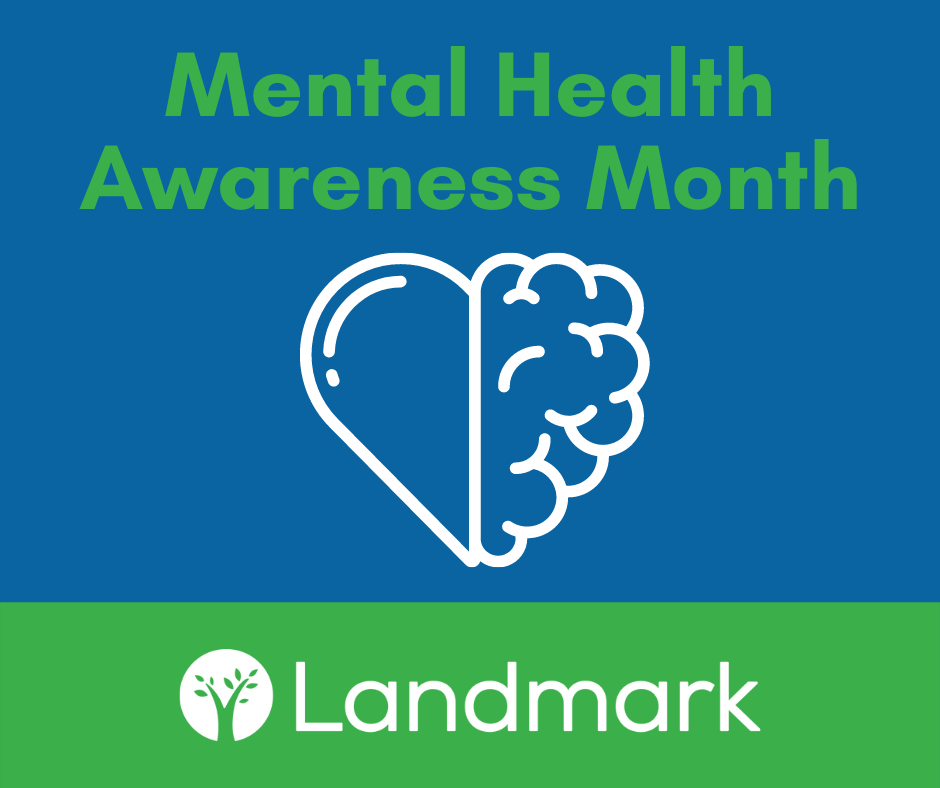 Landmark's Behavioral Health Team
Landmark recognizes the importance mental health has on overall health and has an integrated behavioral health team that collaboratively addresses mental health and substance use needs.  The team includes psychiatrists, advanced practice providers and social workers.
They ensure quality access to behavioral health support for Landmark patients and facilitate connection to additional community care as needed. The behavioral health team provides an important connection to Landmark patients who have experienced depression, anxiety, isolation, grief and loneliness.
Landmark Patient Story
J.L. is a 46-year-old female with multiple health conditions, including lupus, hyperlipidemia, type 2 diabetes, glaucoma, and depression. Her Landmark provider referred her to Landmark social worker Jessica Arlotta, LMSW, due to financial concerns, including rent assistance and access to financial assistance programs.
Jessica assisted J.L. in accessing local resources and financial assistance programs. Unfortunately, the patient began to experience a mental health crisis expressing thoughts of self-harm. Upon hearing these concerns, Jessica ensured J.L. was connected to the behavioral health nurse practitioner Amanda who reached out to the patient.
Recognizing that care extends beyond Landmark, Jessica and Amanda reached out to J.L.'s daughter to ensure she was aware and involved in next steps. Based on conversations with the patient and her daughter, crisis services were dispatched to meet with J.L. and her daughter to establish a safety plan for that evening.
To ensure integration of care inclusive of behavioral and medical health, Jessica and Amanda collaborated with the rest of the Landmark team including the provider and nurse care manager.  Next steps were established to ensure the best quality of care for the patient to ensure all her needs were addressed.
The Landmark team's knowledge of resources and discussion surrounding J.L.'s unique stressors allowed for a quick response to ensure that she would receive the best quality of care. The event displayed not only compassion, empathy, and due diligence for the patient but also to each other as teammates.  As such, Landmark demonstrated NAMI's message of "together for Mental Health."

*Patient name changed to protect the patient identity.
Author: Tanni Bromley, MPAS, PA, Senior Director of Behavioral Health