July 27, 2022
A Glimpse into the Work of a Landmark Physician Assistant
Have you ever wondered what a day in the life of an in-home medical care provider looks like? Physician assistant Lauren Johnson provides medical care to Landmark patients – in their homes in Albany, NY.
Lauren has worked at Landmark for almost three years. Before making the transition to providing in-home medical care, she worked in in- and outpatient settings, providing pain management and hematology and oncology care.
As a physician assistant, Lauren sees Landmark patients in their homes, providing routine visits to help patients manage and treat chronic conditions. She also provides urgent visits for patients with immediate medical concerns, and visits patients when they are discharged from the hospital.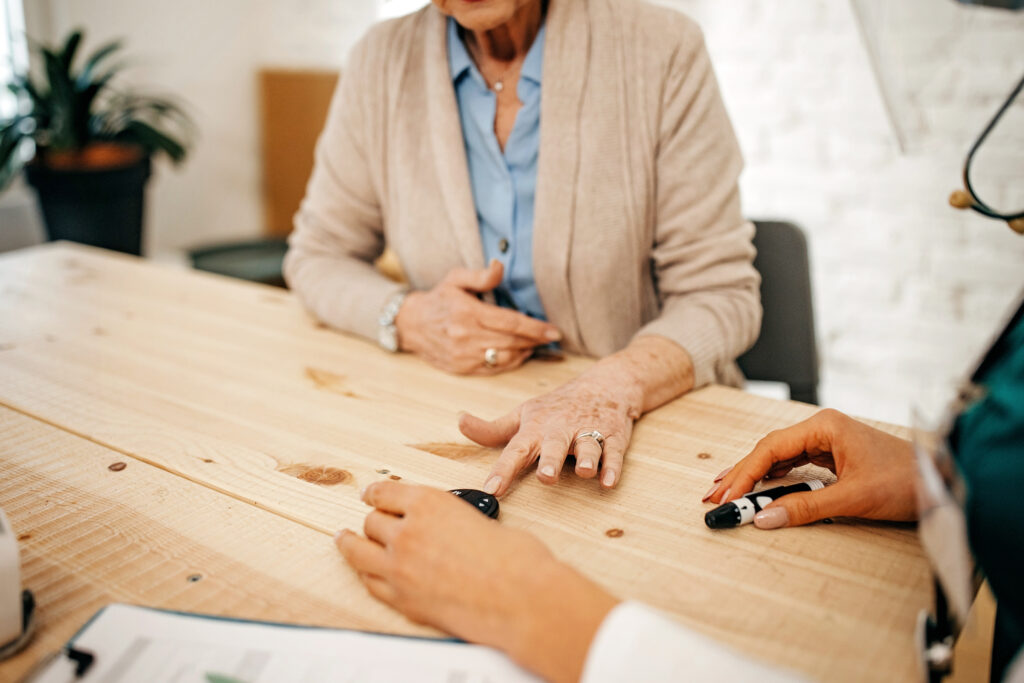 Living and Working in Your Community
Reflecting on her day, Lauren says, "I see patients from the time I leave home until the time I come home. Every morning, I check my schedule, and I head out the door into my community."
Lauren sees patients who live in her local area. She explains, "I've lived in the area my entire life and I have never felt so connected to my community since joining Landmark. I've learned about new shops and restaurants, and I even got my Thanksgiving turkey from a patient's family's business."
Lauren has even received positive feedback in the community. A co-worker was wearing Landmark clothing in town and a patient approached her. "A patient had such a positive experience with me that they saw someone wearing Landmark gear and told them about it. It meant so much to me that they felt compelled to approach a stranger and tell them how happy they were with me and Landmark's care."
Adapting to a New Care Model
Working in traditional care settings prior to Landmark, Lauren had to learn a new way to provide care. Lauren explains, "It is a different world. In school, medicine isn't taught this way. But I don't think I could go back to a typical care setting after this job – I've had such a positive experience providing care in the home."
According to the Center for Disease Control, adults age 65 and over account for 16% of the population. Learning Landmark's care model requires understanding the patient population. "The majority of our patients are elderly. Many are homebound or rely on others for transportation," Lauren explains.
Landmark serves a unique population of seniors – those who have six or more chronic conditions. This population requires specialized medical care. Landmark equips new providers with extensive training, opportunities to receive Continuing Medical Education credits, job shadowing and more. This allows Landmark providers to be prepared to provide the best level of care.
Eyes Inside the Home
Quality of care matters. Landmark providers spend about one hour with each patient compared to a typical office visit where providers have 15-20 minutes to spend with each patient. The length of the visit allows Landmark providers to take the time to answer questions, address concerns, and to understand the patient's concerns and wishes.
In-home care provides insight that cannot be gained in an office visit. Lauren says, "We are able to see what, if any, family support the patient has, if their pantry is stocked with food, if there are safety concerns such as loose rugs that could lead to a fall, and much more."
Once these insights are gained, the provider can relay this information to the patient's primary care provider and provide necessary support. Landmark's care team is made up of physicians, advanced practice providers, dietitians, behavioral health specialists, pharmacists, social workers,  nurse care managers and healthcare ambassadors.
The team collaborates to provide the patient with support to address issues ranging from depression to dietary needs, and more. They can also help patients access community resources such as food delivery and transportation to ensure the patient is safe and cared for.
Mission in Action Supports Patients and Providers
The support of a care team benefits not only the patients, but the providers as well. Lauren explains, "I have the support of nurses, behavioral specialists, social workers and more. It makes a world of difference to have the support of a specialized care team."
Lauren continues, "As our company has grown, our mission has never changed. We work together to provide great care for our patients. Everyone here works with the patient at top-of-mind, and that makes the job really easy."
While caring for an older and sicker population presents its own unique challenges, it also has its benefits. "I haven't been on one patient visit or call where they don't say how grateful they are for Landmark. They are grateful that we come to their home, but they are most grateful for how much we care," Lauren says.
Landmark's in-home medical care is available to eligible older adults with chronic conditions in more than twenty states. Check to see if you are a loved one qualifies for Landmark, or talk to your health plan about programs available to you.