November 15, 2022
How caregivers can support themselves and those living with Alzheimer's
Tips and resources to support the millions of U.S. Alzheimer's caregivers
Unpaid caregivers are essential for providing affordable care and independent living options for the 6 million Americans living with Alzheimer's every day.
Perhaps someone in your life is a caregiver. People with Alzheimer's disease are often cared for by family members or friends who step in—for the long or short term—to help someone they love. They also provide emotional support and companionship for those living with Alzheimer's. Most family caregivers learn as they go and aren't formally trained. According to the Centers for Disease Control (CDC), a "caregiver" can be anyone who helps with tasks such as shopping, paying bills, bathing, dressing and managing medications.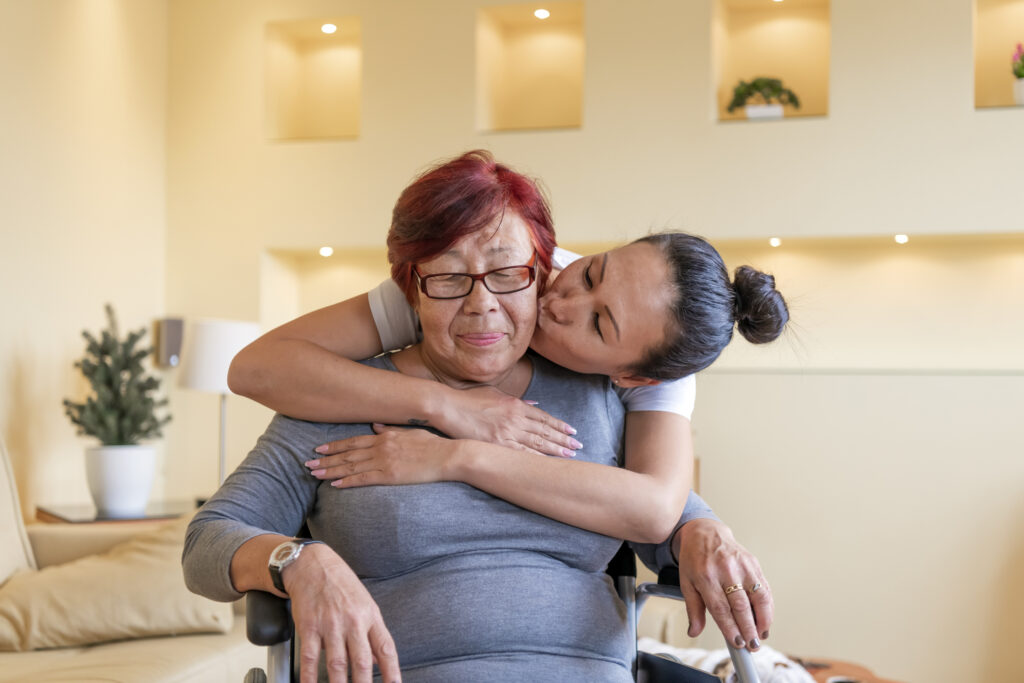 Tips for Alzheimer's caregivers
This disease causes an emotional and financial burden on everyone involved, but no caregiver should work alone. Free resources, experts, and phone helplines are available across the U.S.
What to watch for: As a caregiver, you don't have to be an Alzheimer's expert, but there are experts available on all the topics you have concerns about: wandering, driving, incontinence, speech, stress, nutrition, dressing, sleep, and much more. Don't be afraid to reach out to free community resources. This resource list from the Alzheimer's Foundation of America (AFA) can help.
 It's okay to ask for help: All caregivers need a break. Respite refers to a break for caregivers to care for themselves. Respite care can come from professional in-home care, adult care day programs, or family and friends. Contact your patient's Landmark care team if you'd like help in finding respite care. This CDC list of suggestions can also help you ask for help.
Create a safe living space: Simple home layout changes can protect a loved one's safety and improve their quality of life. Good resources for creating a safe home space for someone living with Alzheimer's include this guide from the AFA.
Seek out an Alzheimer's caregiver support group: A strong support system is important for an Alzheimer's caregiver and local and national resources are available online and via phone. Seeking out a peer group to support you is an act of love and care for both you and the person you care for.
Staying healthy as a caregiver: Alzheimer's caregivers often neglect their own health or find it hard to care for themselves. If a caregiver's own health declines, they can't provide essential care for those relying on them. Don't forget to tend to your mental and physical health and talk to your doctor about your caregiver role.
Communicate with everyone involved: Speaking openly about Alzheimer's progression eases the burden for everyone. Family meetings and discussions with primary care providers are essential. These strategies from Landmark and the (AFA) can be helpful guides.
Develop and maintain a care plan: Living with and caring for an Alzheimer's or dementia patient takes careful planning. Don't forget to plan for emergencies and natural disasters. Try to update an Alzheimer's care plan yearly or more often if needed. The CDC has an excellent overview of what to cover and how to create a care plan.
 If you or someone you know could use Alzheimer's caregiving support or information, reach out to the Alzheimer's Foundation of America via a toll-free helpline at 866-232-8484 or TEXT 646-586-5283 or visit the AFA website. You or your caregiver can also contact anyone on your Landmark care team.
Alzheimer's Caregiving Facts:
● Alzheimer's is a progressive dementia disease beginning with mild memory loss. Early and accurate diagnosis is important.
● After diagnosis, knowing the signs and progressive stages of Alzheimer's is necessary for every caregiver.
● A person's risk of developing Alzheimer's disease increases with age, but Alzheimer's disease does not occur naturally as we age. It is different than dementia and can only be diagnosed by a physician.
● According to the CDC, growing evidence shows it may be possible to reduce the risk of Alzheimer's disease by controlling your blood pressure, exercising regularly, and quitting smoking.
● Today, more than 16 million caregivers provide over 18.5 billion hours of unpaid care in the United States, according to the CDC.