September 4, 2019
A Day in the Life of a Nurse Practitioner
Landmark Nurse Practitioner Megan Burke explains what a day in the life looks like in her role.
Since Megan Burke, Nurse Practitioner, joined Landmark Health three years ago, no day has looked the same.
Every day presents new challenges and rewards for Burke, who provides in-home medical care to 230 patients in the Buffalo, New York area.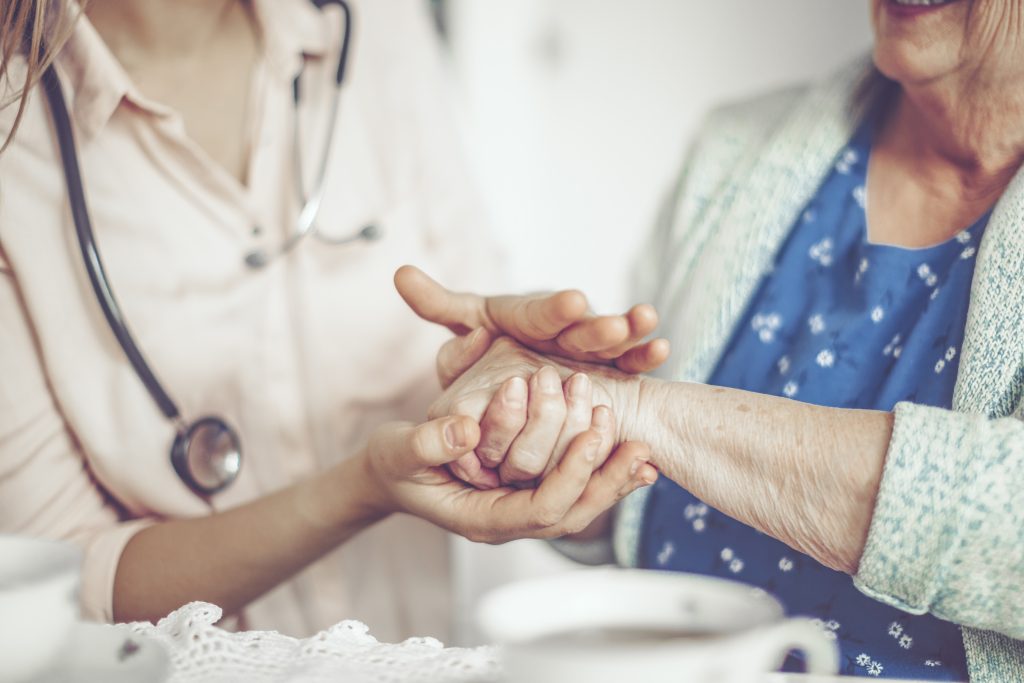 Starting Each Day Right
Burke begins her mornings by checking her phone for her territory's daily patient census. The patient census gives information on patients that were recently admitted or discharged from the hospital. "If any of my patients were recently discharged, I schedule a visit as soon as possible to connect with them, find out how they are feeling and discuss any changes in care," Burke explains.
"The most rewarding part of my job is the relationships that I build with my patients. Patients feel comfortable calling Landmark. We visit a lot of patients on a frequent basis, so it's like we're part of their family."
The local Landmark medical team also holds daily telephone meetings, including advanced practice providers, physicians, nurses, care coordinators, and ambassadors. The team discusses patient concerns and any patient updates. Burke notes that the team communicates with each other throughout the day to make sure all team members have a complete understanding of each patient's care.
Patient Visits
Burke begins her patient visits in the morning, generally with three home visits for approximately 40 minutes each. "During visits I check with patients on how they are feeling, ask them if anything new has happened, check vital signs, do physical exams, review medications and ask for questions. I always tell them to reach out with any questions or urgent needs," Burke says.
After her morning visits, Burke takes a lunch break where she finishes her morning patients' charts and reviews the charts of her afternoon patients. In the afternoon, she visits three more patients. At the end of each day, she completes patient charts and prepares for the day ahead.
Staying Organized with a Changing Schedule
In addition to her scheduled patients, Burke also makes urgent medical visits in her area. Throughout the week, including some weeknights and weekends, Burke visits another five to ten patients as urgent needs arise. "I make every effort to visit my own patients when they have a pressing need," Burke explains.
Burke says, "I'm very Type A and keep a calendar with all of my visits. I schedule carefully and keep my drive time down, so I have extra time when urgent visits come up."
Rewards of Being a Landmark Provider
Burke reflects, "The most rewarding part of my job is the relationships that I build with my patients. Patients feel comfortable calling Landmark. We visit a lot of patients on a frequent basis, so it's like we're part of their family."