January 12, 2022
Landmark's first pharmacist discusses medication adherence and team collaboration
Janelle Hazen began her career in a retail pharmacy. After more than five years in retail, she desired change. "I wanted to find a role that utilized my clinical knowledge, and a company that aligned with my personal and professional values," Hazen explains.
Hazen came across Landmark in her job search and was immediately impressed with the company's values. In 2015, she became Landmark's first pharmacist, starting out one day per week. "When I started, I worked at Landmark on one of my off-days from my retail pharmacy job. I felt so compelled by what Landmark was doing for complex seniors, I wanted to be a part of it," she says.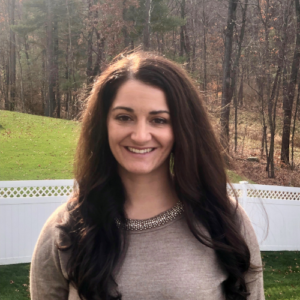 Career growth
When a full-time position became available, Hazen was happy to accept the role. She worked as a clinical pharmacist in Albany, NY, and expanded her role to cover New York City and Buffalo, NY. Landmark hired a senior director of pharmacy who became Hazen's mentor. "She helped me understand various aspects of the business such as management and finance. Most importantly, she taught me the importance of advocating for your team," she explains.
Hazen has been promoted several times and is currently the company's senior director of pharmacy. As Landmark has expanded, so has the pharmacy team. The team has more than 30 employees, including clinical pharmacists, pharmacy techs and an inventory control manager, spanning across 18 states.
This year, Janelle completed her long-standing goal to become board certified in geriatric pharmacy. "I'm really proud of this certification. It has increased my knowledge of our patient population and allows me to better support our care teams," she says.
Benefits of pharmacy support
When considering in-home medical care, one may wonder, "How can patients benefit from having a pharmacist see them in the home?" Through in-home visits, pharmacists can see how medication is stored and if it is being taken properly. They can identify expired or over-the-counter medications that patients should not take.
Hazen explains, "One of the benefits of in-home care is that you have more time with the patient than you do in a retail setting. By taking the time to sit down with them at their kitchen table, you can build trust and create understanding. Patients learn why they are being prescribed a medication and the importance of medication adherence."
Medication adherence, taking medications as prescribed by your healthcare professional, is a priority for Hazen and the pharmacy team. "Most of our patients are on 15 to 20 medications," Hazen says. "The medications have long and unfamiliar names, and it can be challenging to remember when and how to take them."
As the number of medications increases, medication adherence decreases. Patients may choose to not take medications due to cost or side effects. The Landmark pharmacy team aims to make medication regimens as simple as possible. They can prescribe alternative medications with fewer side effects and to find ways to make costs affordable.
Medication adherence in practice
The pharmacy team recently experienced medication adherence success with a 72-year-old female patient. The patient has multiple chronic conditions, uncontrolled Type-2 Diabetes and high blood sugar levels. A Landmark pharmacist discovered the patient stopped taking most of her medications due to cost and fear of side effects.
The pharmacist explained the important role her prescriptions play in keeping her out of the hospital. Understanding the importance, the patient agreed to take her medication. The pharmacist had weekly check-ins with the patient to provide encouragement and reminders.
These frequent check-ins created trust between the patient and her Landmark pharmacist. Three months later, the patient's blood sugar levels and Type-2 Diabetes are under control.
Support of a well-rounded care team
Landmark pharmacists are part of a broader care team including physicians, advanced practice providers, nurses, dietitians, social workers and behavioral health specialists. Care team members work together to create care plans, discuss patient concerns, and provide the best care possible.
"We act as a consultant for the care team. We work together to keep patients healthy at home," Janelle says. A Landmark ambassador, dietitian and pharmacist recently worked together to provide care for a patient with Type-2 Diabetes. The patient enrolled in Landmark's Pharmacist-led Diabetes Management Program to decrease his blood sugar levels.
The Landmark ambassador taught the patient how to properly test blood sugar levels. The dietitian worked with the patient to identify healthy carbs and decrease saturated fats. The pharmacist simplified the medication regimen and reduced blood sugar testing from twice daily to once daily. The team's collaboration led to weight-loss, decreased blood sugar levels and gave the patient peace of mind.
Full circle moment
From her start as Landmark's first pharmacist to leading a team of more than 30 employees, Hazen is amazed at the growth over the last five years. "Leading the pharmacy team means a lot to me. As a leader, I want to advocate for what's best for the team and maintain our positive culture," Hazen reflects.
Considering advice she would give to pharmacists interested in a new role, she says, "Don't sell yourself short. Make sure the company you choose to work for matches up with your personal and professional values – that's what makes me happy to work at Landmark every day."