November 7, 2023
How Landmark Health Addresses Loneliness
By: Joy Draper, LCSW-Supervisor, Social Work Manager
In March 2023, an article published by The National Library of Medicine, reported, "Social disconnectedness and loneliness in chronic illness patients significantly increase health service use." The article goes on to state, "There is evidence of a significant association between social isolation and depressive symptoms."
It's clear that health care providers are recognizing the considerable impact loneliness plays on our patients' mental and physical health. It's important to support your patients and reduce the negative effects of loneliness by completing loneliness screenings, connecting to community resources and identifying and strengthening internal and external support.
How Landmark Health can help address loneliness
Landmark Social Workers complete a comprehensive psychosocial assessment with patients to find barriers and solutions to improve care. If a patient reports feelings of loneliness, social workers are prompted to offer resources to decrease feelings of loneliness. The Landmark Behavioral Health Team also addresses loneliness, which is often linked to depression, by providing brief therapeutic interventions.
For example, many patients are engaged with a program called Friendly Voices through AARP. Friendly Voices is a program of trained volunteers that offers hope and emotional support to isolated patients through regular phone calls.
Strong connections to social and community support can decrease feelings of loneliness. Social workers assist in identifying internal supports such as personal faith and beliefs and resiliency. Community supports are also identified, such as support groups, community partners and churches.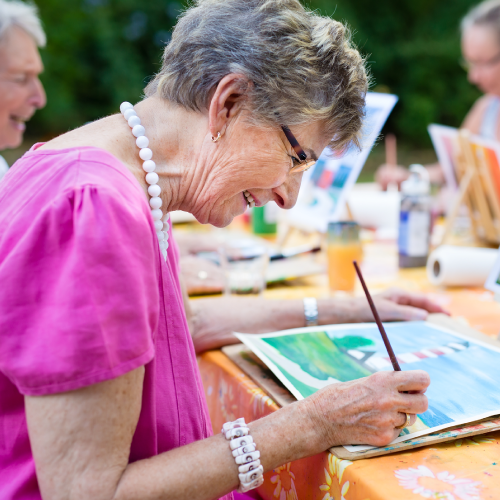 A patient story to highlight the social work approach to care
Josephine is a patient with Landmark who was referred to social work. The social worker completed a psychosocial assessment and assessed Josephine for loneliness. Josephine reported calling the crisis line weekly to help her cope with depression and anxiety. The social worker discussed loneliness with Josephine, and as a result, the patient was referred to Friendly Voices and the Landmark Behavioral Health team. Josephine now uses Friendly Voices often. Since working with our Behavioral Health team, she reports feeling less anxious and sad.
Josephine is a wonderful example of what happens when the interdisciplinary team has an opportunity to address the needs of patients. Josephine now has less anxiety and depression, has a friendly voice she speaks to regularly and focuses on her medical needs.
*Patient name changed to protect patient's identity