December 20, 2021
How to Handle Loneliness
Learn how to reduce loneliness and social isolation.
In 2017, the U.S. Surgeon General Vivek Murthy proclaimed loneliness and social isolation among older adults as a global epidemic[1], and rightfully so, it is human nature to connect with one another. Whether it be on a physical, mental, socio-political, or even an economic basis, the need for companionship and community has long been a staple of the human experience. Having a community provides a sense of purpose in our endeavors and, in some ways, gives validity to our own existence.
The COVID-19 pandemic drastically changed the social landscape. As a society, we isolated to protect ourselves and one another from the virus. This unfortunately led to loneliness and social isolation.
Social isolation and loneliness are different.
Loneliness is defined as "a discrepancy between one's desired and achieved levels of social relations."[2] When we are unable to experience the level of social relations we desire; we experience frustration and sadness.  Meaning, we don't experience the social relationships we want. This can lead us to feel lonely, unseen, or misunderstood.
Loneliness can stem from depression, anxiety or a change in life circumstances. In contrast, social isolation is defined as "having few social relationships or infrequent social contact with others."[3] An example of this is "social distancing," which has been the key practice and preventative measure for the COVID-19 virus. The key distinction between the two is that loneliness is not purposeful by the individual, whereas social isolation is. Regardless, one thing is for certain — loneliness and social isolation has become an epidemic that is taking its toll on everyone, especially our older population.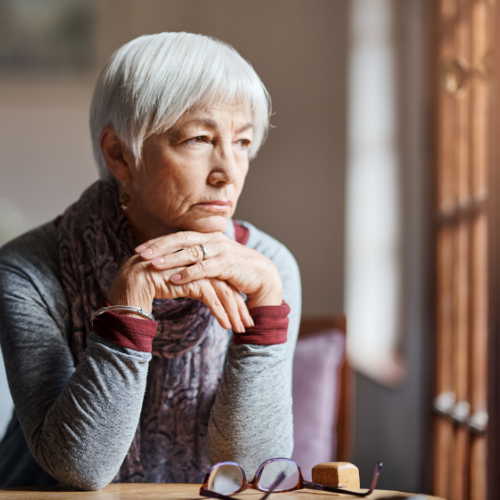 Older adults impacted physically and mentally by loneliness and social isolation.
The COVID-19 pandemic focused attention on older adults as the most vulnerable to loneliness and social isolation with increased concerns on the impact to physical and mental health.  This can include increased blood pressure, heart disease, depression, anxiety, poorer cognitive functioning and increased risk of Alzheimer's. [4] While these health conditions may already be present in older adults, the COVID-19 pandemic has increased awareness that the onset of these conditions may also be impacted by loneliness and social isolation.
How to reduce loneliness and social isolation?
As we move into the new normal, the question remains: how can we best reduce the ramifications of loneliness and social isolation? The answer to that question is no small task; however, consider the following small actions to create more meaningful activities and reduce loneliness and social isolation:
Increase communication and consider the preferred method: telephone, video or technology platforms
Explore virtual friendly visitor programs through trusted organizations
Take social distancing walks with others
Revisit written communications: Try pen pals, cards and mailings
Always smile with your eyes and your hearts regardless of the communication selected
If you are a Landmark patient, please talk to you Landmark provider if you are lonely or socially isolated. Our behavioral health providers and social workers are here to help you. If you are not a Landmark patient, reach out to your regular doctor, care team or loved ones for support or check out additional resources below.
Resources available:
[1] Murthy, V. (2017). Work and the loneliness epidemic. Harvard Business Review, 9, 3-7. [Google Scholar]
[2] Perlman, D., & Peplau, L. A. (1981). Toward a social psychology of loneliness. In S. Duck & R. Gilmour (Eds.), Personal relationships in disorder (pp. 31–56). London: Academic Press. [Google Scholar]
[3] Dahlberg, L., McKee, K. J., Frank, A., & Naseer, M. (2021). A systematic review of longitudinal risk factors for loneliness in older adults. Aging & Mental Health, 1-25. [Google Scholar]
[4] Wu, B. (2020). Social isolation and loneliness among older adults in the context of COVID-19: a global challenge. Global health research and policy, 5(1), 1-3. [Google Scholar]
Shanira Griffith, LCSW
NYC Metro Social Work Supervisor