June 4, 2018
The Value of a Home Visit Model
Because Landmark clinicians see patients in their homes, we see more as soon as we pull into the driveway.
Article written by Rachel Park, Clinical Strategy and Innovation at Landmark Health
Before joining Landmark Health as a nurse practitioner (NP), Christy was employed at a family practice. She found herself conducting 20–25 visits every day—before facing 30 voicemails and 50 lab results to review every evening. Two years in, she felt exhausted and unable to spend the time she knew she needed with her patients.
This feeling is not unique to Christy. Half of primary care practitioners report feeling burnt out, with long hours, bureaucratic tasks, and time pressure cited as major pain points. A RAND study found a common underlying driver of these dissatisfiers: the feeling that practitioners were unable to deliver high-quality care.
Most practitioners enter medicine with a strong desire to care for their patients in the best way possible. At Landmark Health, we bring home the promise of better care to complex, high-need patients through our home visit model. We spend more time at each visit, and have more frequent patient visits than in Christy's prior experience. As part of the Landmark Health team, Christy can now dig deeper, invest the necessary time to figure out her patients' health issues and needs, and make sure they are being managed.
What makes a home visit model different?
We go to patients wherever they reside. Getting outside of the home can be a major ordeal for many complex, polychronic patients. Even a simple office appointment can involve finding a ride, packing a walker, battling traffic and weather, trekking in from the parking lot, signing in, waiting…and waiting…in the waiting room before finally settling into an exam room—for a 15-minute visit.
This is how a Landmark patient prepares for an appointment: open the front door for a trusted Landmark provider and sit in a favorite chair at home. Because we come to them, our patients spend less time and effort traveling and more time face-to-face with a clinician who is focused on their wellness goals and medical needs.
We see more. It can be challenging in a traditional fee-for-service clinic to gather a comprehensive history, educate patients on their clinical trajectory, and address the root causes of a patient's health. For patients with several physicians and health services in their lives, it can take 15-20 minutes to recap what happened at their last cardiologist visit. And time's up.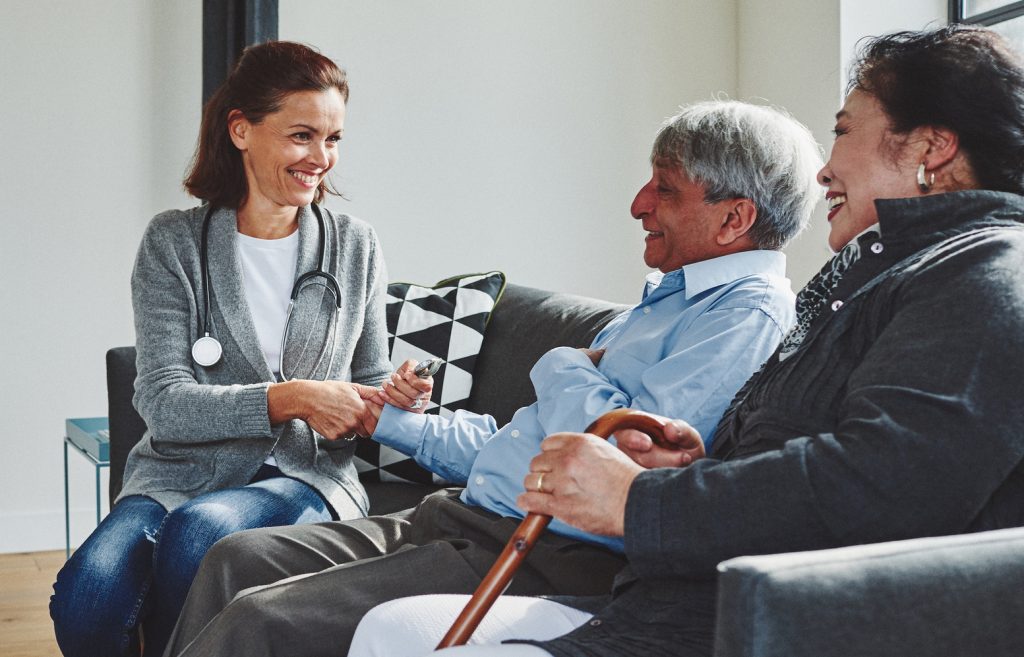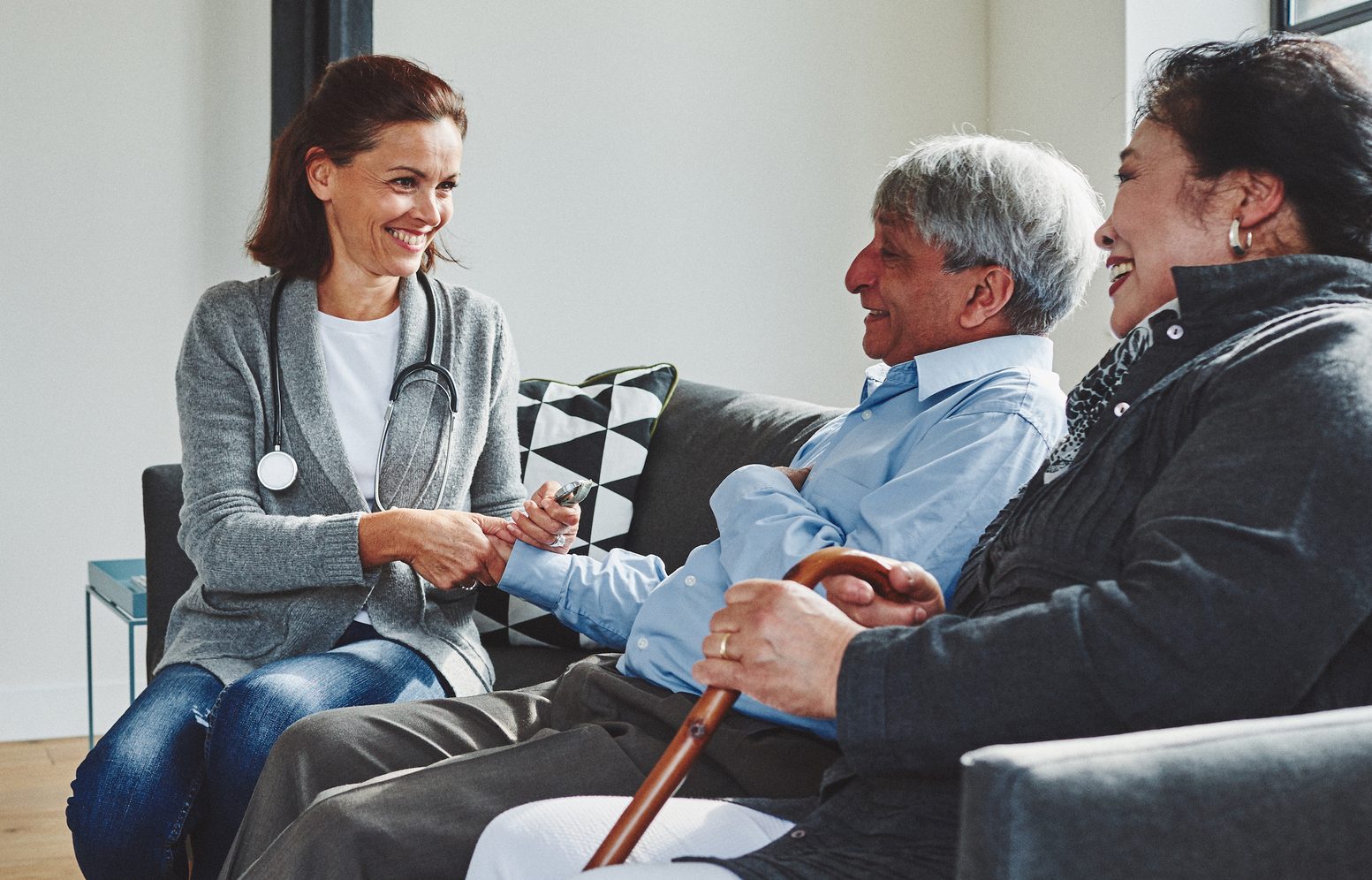 Because Landmark clinicians see patients in their homes, we see more as soon as we pull into the driveway. We are greeted by daughters, nephews, professional caregivers, and beloved pets. We can see whether there are apples and oatmeal or diet soda and junk food on the kitchen counters. We can look around for slippery rugs, cluttered hallways, or other potential fall risks. All this observation can happen even before diving into a patient's diagnoses and how they're feeling.
The home visit model also allows Landmark patients to show, not tell. On a recent home visit, a Landmark NP asked about the patient's recent changes in medications. The patient's daughter brought out a Ziploc bag full of medications and commented on recent changes to the patient's regimen. The NP asked the patient, "How do you remember to take your medications in the evening?" The patient took out her pillbox and demonstrated how she puts a full day's medications together into a small wooden bowl on the kitchen table to take collectively before dinner. Seeing these details firsthand gives Landmark clinicians a richer picture of the patient's health literacy and the opportunity to intervene when it is a barrier to effective care.
We're there when patients need us. The typical Landmark patient has more than five chronic conditions. Many will experience frightening symptoms—shortness of breath, swelling, dehydration—with nowhere to turn other than the emergency room (ER), especially outside of typical office hours.
Landmark patients can call us 24/7 with urgent needs. Although these situations are inevitable with our population, our interdisciplinary care team works together to catch issues before they become full-blown exacerbations. One Landmark nurse in Harrisburg, Pennsylvania calls a patient with congestive heart failure (CHF) every Friday. On a recent call, as they were chatting about his Easter ham, she discovered that the patient's weight had increased in the last few days. Our provider promptly visited the patient's home and increased his dosage of Lasix, ensuring that the patient spent his weekend at home, not in the hospital.
The impact of a home visit model
A home visit model allows Landmark to alleviate typical patient and caregiver burdens by bringing routine and urgent care wherever the patient resides. The model allows us to use our senses in the home and customize a patient's care plan to their unique situation. Spending the necessary time in a familiar environment and listening to the patient and their loved ones improve trust and allows for comprehensive, more cooperative care for each patient. This model has reduced hospitalization volume up to 40% on patients managed by Landmark, in addition to many other improvements in quality and length of life, patient and caregiver relief and satisfaction. Landmark brings home the promise of better care.
About Landmark

Landmark is an industry leader of home-based medical care for patients with complex health needs, covering more than 80,000 lives. Its community-based, physician-led medical teams specialize in house calls and deliver medical, behavioral, social and palliative care to individuals with multiple chronic conditions wherever they reside, and wherever they need it. Landmark's teams of mobile clinicians collaborate with patients' families, caregivers, and other medical providers to bring coordinated healthcare to people who need it the most. Landmark operates nationally, expanding coverage to reach 13 states in 2018. For more information on the Landmark model, visit our How it Works page.
The information provided herein is intended for your general knowledge only and is not a substitute for professional medical advice or treatment for specific medical conditions. You should not use this information to diagnose or treat a health problem or disease without consulting with a qualified healthcare provider. Please consult your healthcare provider with any questions or concerns you may have regarding your condition.