November 2, 2020
What is Palliative Care at Home?
Learn about what is included in palliative care.
Palliative care is specialized care for people with serious illnesses. It establishes a comprehensive treatment plan based on the patient's care needs and preferences.
The goal of palliative care is to improve the quality of life for the patient and their family. Palliative care aims to relieve symptoms from illnesses such as heart disease, lung disease, kidney disease, dementia and cancer, as well as to reduce the emotional, spiritual and social stress caused by illness.
Palliative care can be provided simultaneously while undergoing treatment. Those who receive palliative care continue to see their primary care physician and specialists. It can be provided at the onset of diagnosis, throughout treatment and through end-of-life care.
Palliative Care Treatment
Treatment is focused on meeting the specific individual needs of the patient and family with a holistic approach to care. Management may include changes in medications to improve comfort, behavioral health therapies to address anxiety/depression, nutritional interventions to address nutritional issues, social services to improve home support and chaplain services to address existential issues and grief.
What is included in palliative care?
Primary care physicians/Specialists
Advanced practice providers
Nurses
Social Workers
Pharmacists
Dietitians
Behavioral health specialists
Spiritual counselors or chaplains
Differences Between Palliative Care and End-of-Life Care
While end-of-life care and palliative care both provide comfort in alignment with the patient's wishes, palliative care can begin at the onset of diagnosis and persist throughout treatment. End of life care is a type of palliative care often covered by hospice services for patients who have less than six-month life expectancy as determined by two physicians.
Patients eligible for hospice services receive coverage of medications, durable medical equipment, medical supplies, limited home health coverage and frequent nursing visits. Under hospice, care is focused on comfort, relieving active symptoms and improving quality of life.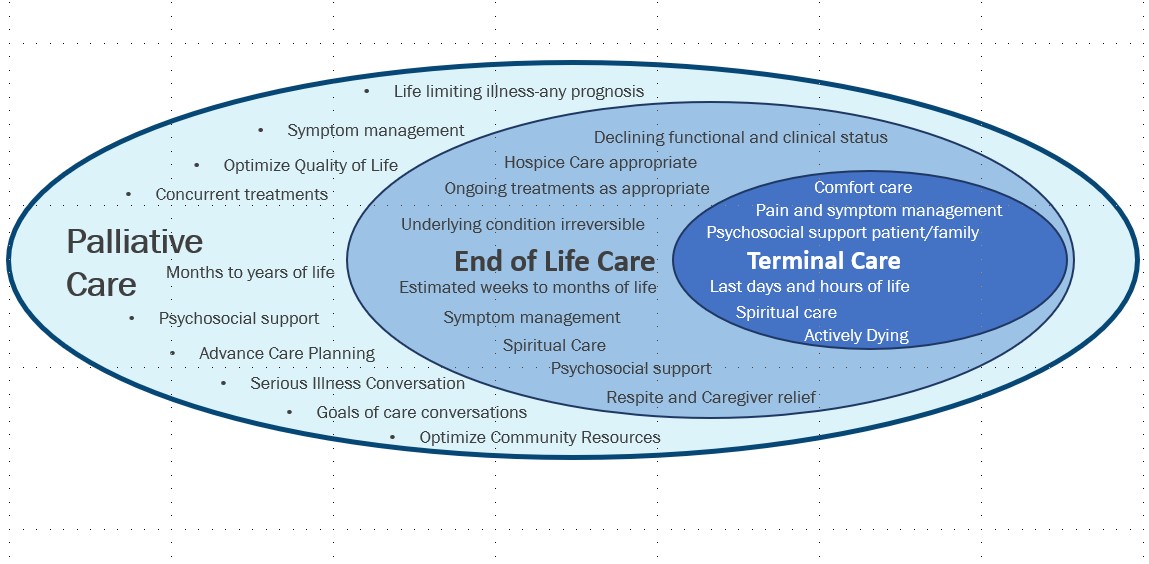 Read more about palliative care here.
Resources:
https://medlineplus.gov/ency/patientinstructions/000536.htm
https://getpalliativecare.org/whatis/
https://www.mayoclinic.org/tests-procedures/palliative-care/about/pac-20384637