October 3, 2019
An Aging American Population Requires a Change in Care Delivery
Mobile providers and medical house calls are becoming a staple in primary care to meet the cost, quality, and access demands of the most complex patients. Read about Landmark Health's solution to address the high cost of the complex, chronic population.
Joann is a 74-year-old woman who lives in a senior residence and loves to read. She has a daughter who lives nearby, and a cousin who is a nurse and acts as her health advocate. Joann manages multiple chronic conditions such as diabetes, kidney disease, asthma, COPD, gastrointestinal issues, and bipolar disorder.
"My health was very bad," Joann says. "My cousin would take me to my doctor appointments and explain things to me, because I get stressed at the doctor's office."
But when Joann's cousin severely hurt her back and could no longer drive Joann to the doctor, managing her health became even more difficult. "The medical van in our community was no longer running," Joann says, "So I tried taking taxis, but I had to reschedule appointments a lot. Unfortunately, I ended up calling the ambulance and going to the hospital multiple times. I don't like using the ambulance, and it costs a fortune."
Addressing medical, behavioral health and social determinants
People like Joann are at risk of falling through the cracks in the current clinic and hospital healthcare system. In the fee-for-service model, because of the need to see a high number of patients per day to be financially viable, providers often find themselves spending less time with more patients, addressing only the most urgent issues and writing referrals to specialists in order to move on to the next patient. One solution is a shift in focus by medical professionals, from providing medical services to achieving outcomes using value-based medical care.
The fee-for-service model nearly caused the extinction of the medical house calls. But the recent push for alternative payment models, which focus on value and outcomes, has prompted the resurgence of the medical house call as a highly patient-centric approach to care, especially for the most vulnerable. In the home, providers routinely spend 46 to 60 minutes with a patient and their family. This time can be used to address medical concerns and provide patient education.
During house calls, the patient can share their health and life goals, or if necessary, start the difficult discussion on end-of-life planning from the comfort of the kitchen table. In the home, providers have deeper insights into a patient's daily life, any safety issues in the home, the patient's social network, the quality of food in the kitchen, the prescription medications on-hand, and more.
Successful value-based, in-home medical models blend acute urgent care with 24/7 availability, and longitudinal care and education to help address the disease and the behaviors that may have contributed to disease progression. Disease progression is often due to social determinants of health (SDoH) which can be more visible in the home than during a doctor's visit in the office.
SDoH can include isolation or loneliness, as well as access to health care, services, medication, health and nutrition education, and quality food. In fact, four in five physicians say it is just as important to address social needs as it is to address medical conditions, but they do not feel confident in their capacity to address social needs, which impedes their ability to provide quality care.[1]
In Joann's case, she recognizes the importance of the multidisciplinary support, stating "Landmark comes to check my vitals and help me with any medical problems. The Landmark nutritionist has helped me get the hang of the proper diet for diabetes. If I don't have a way to pick up prescriptions, Landmark sends the prescription to a pharmacy that will deliver medications. And when I needed to start using a home health aide, Landmark gave me a list of home health aides to consider."
Complexities of in-home medical care model and operational execution
The value of in-home medical care for patients living with multiple chronic conditions is apparent to many health plans, provider groups and others who bear risk for this high-need population. These patients often use urgent care and emergency departments, they are frequently discharged to hospitals or skilled nursing facilities instead of going home. The experience is unpleasant for patients and costly for those holding risk. According to the Rand Corporation, Americans with five or more chronic conditions make up 12 percent of the population but account for 41 percent of total health care spending.[2]
Landmark has kept Joann out the hospital for both medical and mental health reasons on multiple occasions. Joann describes one of those times: "Once I had nausea and vomiting for two days. Normally, I would have called the ambulance, because there was nobody to take me to a walk-in center. But instead, I called Landmark who sent someone out to me right away. The Landmark provider gave me medication to stop the vomiting and an antibiotic for C. diff. He told me how to make sure I stay hydrated. I didn't have to go to the ER or anything. Landmark treated me right here at home."
While the value to the patient may be clear, the complexities of building and delivering an in-home, coordinate model of care is challenging. For providers, treating a wide variety of patients in a clinic supported by administrative and non-clinical staff is significantly different from driving independently to patients' homes, at all hours of the day, to address multiple, complex issues. Landmark knows this first-hand.
Four critical areas of expertise for value-based care of complex patients
Landmark is a national risk-based provider organization established in 2013. Landmark currently bears risk for approximately 100,000 lives across 13 states with 14 partners. Key to Landmark's success has been a business framework that is designed to excel at in-home, coordinated care within a risk-based payment model. Landmark's model customizes four core business and clinical functions.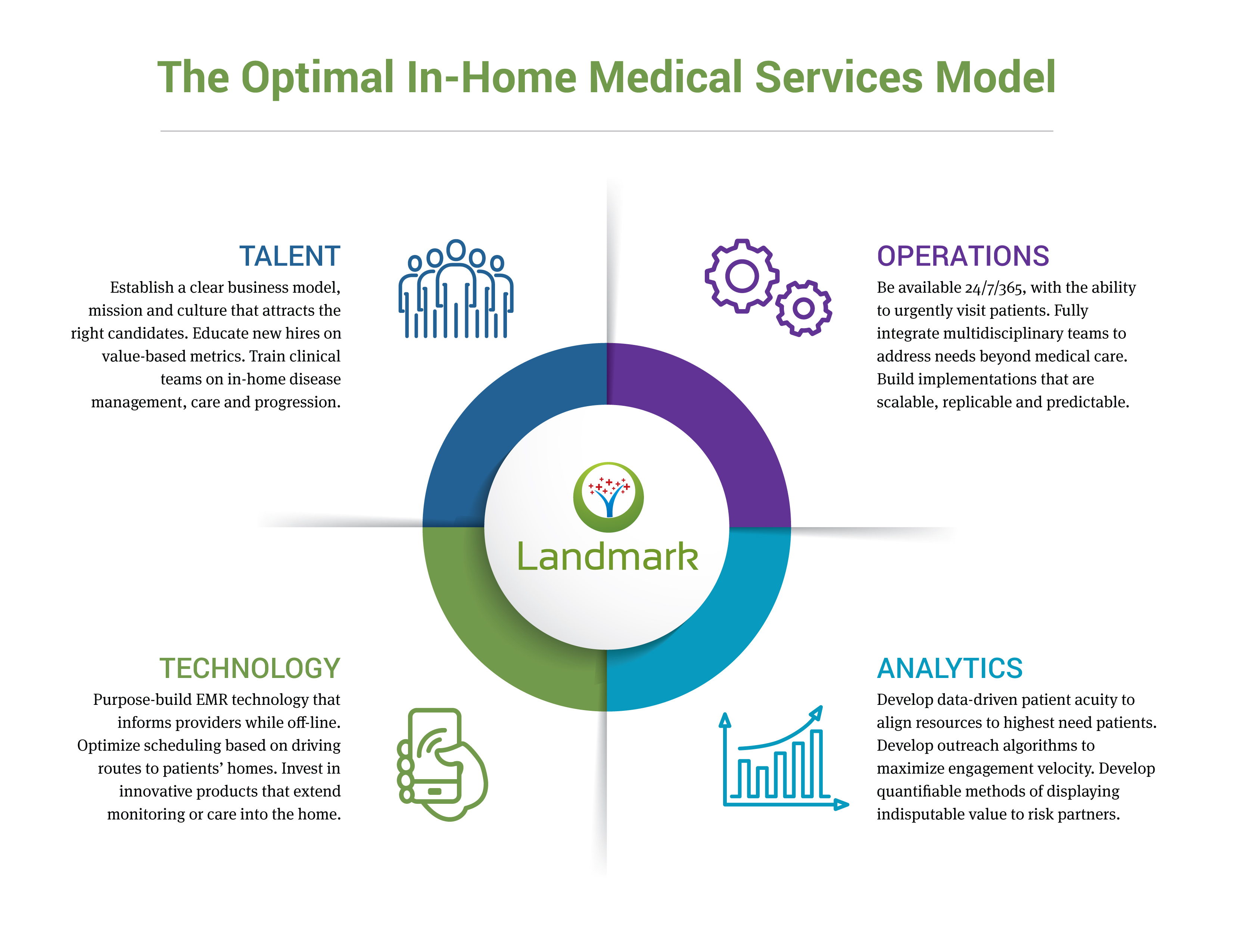 Talent acquisition and retention
Landmark hires local providers and clinical team members drawn to the company's business model and mission of providing care to the most vulnerable patients.
Providers are trained on value-based metrics and to be resourceful while independently working with patients in the home.
Clinical teams receive additional training on chronic condition management, palliative care and end-of-life planning.
Analytics
Landmark's proprietary data-driven patient acuity stratification helps align resources to need, based on who is most likely at risk for a hospitalization.
Patient outreach call algorithms maximize engagement velocity.
The ability to quantify value with a partner holding various risk arrangements is paramount to Landmark's sustainability, and that of any risk-based provider group.
Operations
24/7/365 availability is required to meet the access needs of complex patients, including urgent visits to quickly address acute concerns.
Fully integrated and employed multidisciplinary teams to deploy the right resources in a timely manner to meet patient needs, e.g., behavioral health specialists available same-day for a patient experiencing anxiety or depression.
Expedient implementation for new business partners, including resource allocation, data transfers, education, marketing and outreach.
Technology
Landmark's purpose-built Electronic Medical Records (EMR) is designed with off-line capabilities to remain useful to mobile providers in patients' homes.
A robust scheduling system takes into account travel time and offers optimized driving routes for mobile providers.
Use of wearable devices, video visits and remote monitoring help to augment connection and communication between patients and providers.
Longitudinal outcomes show improved lives, longevity and end-of-life care
Landmark's model is scalable and replicable in various community types across the United States, from dense urban areas to more sprawling suburban regions. The company experienced tremendous growth in the past five years by creating improved patient experiences and outcomes, being proactive and valuing results, staying committed to the highest standards, caring deeply about patients and communities, and seeking continuous improvement.
These efforts have resulted in meaningful outcomes for patients, including:
39% reduction in emergency room visits[3]
28% reduction in hospitalizations
90% completion rate on Advanced Directives
53% reduction in annual mortality rates
Many patients have had an experience with Landmark similar to Joann's, who says, "Since Landmark, I have a much better quality of life. I can call Landmark in the middle of the night. Landmark makes me feel safer. I feel like I have someone I can fall back on."
If you are considering an in-home medical care extension to your practice or network to manage a complex member cohort, explore your options. The decision of whether to partner with an outside group for these services, or to build these capabilities yourself is nuanced and warrants a thorough exploration of options.
[1] Robert Wood Johnson Foundation. Health care's blind side. 1 December 2011; www.rwjf.org/en/library/research/2011/12/health-care-s-blind-side.html
[2] Christine Buttorff, Teague Ruder, and Melissa Bauman, Rand Corporation. Multiple Chronic Conditions in the United States, 2017; http://www.fightchronicdisease.org/sites/default/files/TL221_final.pdf
[3] For Landmark patients in the first six months of engagement compared to the trend in utilization for statistically matched non-engaged patients. Chu, Lihao. A House-Call program that reduces unnecessary variation in utilization and spending among patients with poly chronic conditions. Academy Health Annual Research Meeting, June 25 2018, Seattle, WA. Unpublished conference paper. Landmark Health, LLC, Huntington Beach, 2018. Print.