July 22, 2019
Improving the Care Experience and Transitions for Patients with Complex Conditions
The conversation included how the industry is moving away from facility-based care—like hospitals and office buildings—toward bringing care closer to patients' homes.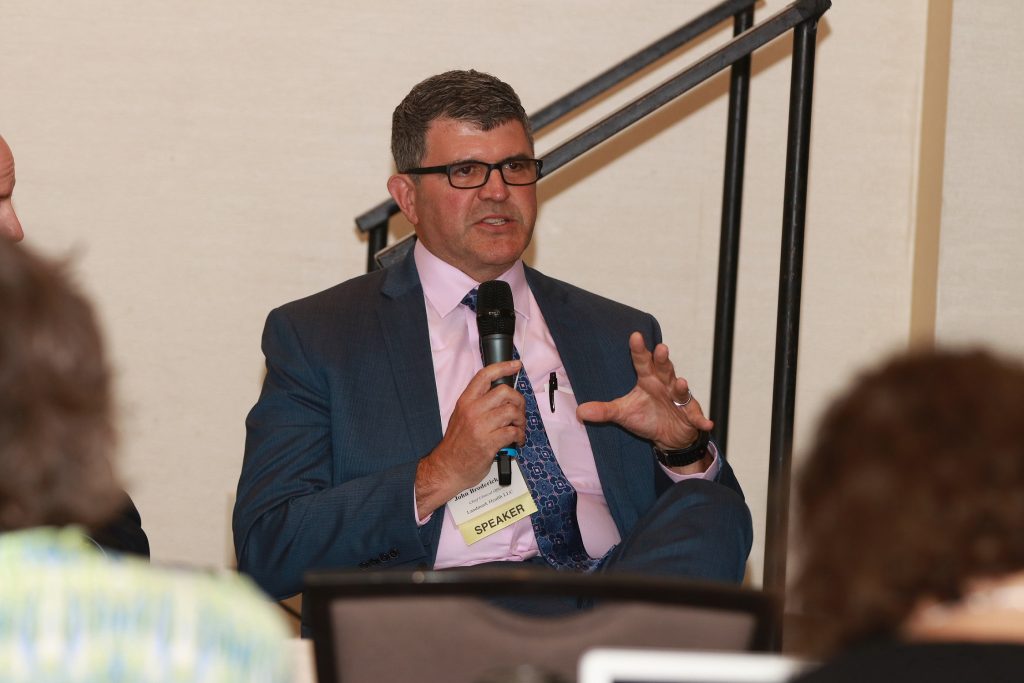 This past June, hospital executives and health system leaders gathered in upstate New York to discuss the future of health care. The conversation included how the industry is moving away from facility-based care—like hospitals and office buildings—toward bringing care closer to patients' homes. This renewed focus on the 'home is where the health is' concept is bringing many non-healthcare companies into healthcare, such as Amazon, Google, Apple and Lyft, along with many smaller companies.
Key discussions swirled around how patients engage with the entire health system and brand loyalty based on that experience.
Improving patient experiences and care transitions
Landmark's Chief Clinical Officer for the East Coast—John Broderick, MD—sat on an expert panel to discuss how we can improve the care experience and transitions for our nation's most complex and vulnerable patients. Each specialist dove into their area of experience:
Broderick discussed how Landmark cares for older patients—typically on a Medicare Advantage plan—with multiple chronic conditions.
Scott Klein, Executive Vice President, Chief Operating Officer and Chief Medical Officer at Blythedale Children's Hospital addressed caring for children with severe medical conditions, injuries and physical therapy/occupational therapy needs.
And Harvey Rosenthal, Chief Executive Officer at New York Association of Psychiatric Rehabilitation Services rounded out the panel, discussing behavioral health for patients who have social determinants of health (SDoH) issues and how to work with medical and non-medical entities to offer a more holistic approach to recovery and ongoing stability.
Shifting the system means changing care delivery and patient expectations
Providing care in a different way requires is a shift in the system and the typical doctor- patient routine. For Landmark, our medical providers are not the Primary Care Providers (PCPs) for our patients. "Landmark has to convince our patients that they need our services," noted Dr. Broderick. "We don't have a front door that happens to be in the neighborhood where traditionally patients go when they need medical services."
Landmark sees that patient care improves when the medical community collaborates to determine who is in the best position to deliver on the outcomes needed for a patient/family in the moment, not who is the patient's doctor.  Modern health care is collaborative and involves those inside and outside of medicine to deliver on the promise of healthcare vs. sick-care which how our system was built.  Doctors and nurses cannot deliver health care alone.
Adding pressure in many communities is the closing of local skilled nursing facilities (SNFs) that are unable to make ends meet. This results in patients who are sicker and frailer being forced to make the tough decision to travel outside their home community for rehabilitate care, or continue to reside in their homes with less than optimal support.
"Collaborative in-home medical services are a requirement for meeting the needs of our society as the population ages," commented Dr. Broderick. "To avoid catastrophic outcomes, groups that can deliver more care in the home are necessary."
For Landmark, collaboration means not only working with community PCPs but also working with hospitals and SNF's by focusing on a safe transition to home for patients. These home transitions need to be properly supported and maintained with no gaps in care and clear communications about what roles each group is doing to avoid redundancy and patient/family confusion.
Shifting health toward patient-centric care
So, what's the future for healthcare? The panel envisions a future in which more medical and social services are available to work with our aging population. Hospitals and SNF's are needed to provide the important technologically advanced care that improves outcomes. And yet we need to move away from a one-stop-shop for every condition. Health care has traditionally been delivered from a hospital-centric point of view and the major shift is moving care to a patient- and family-centric point of view.